Lumpfish are increasingly used to pick parasitic sea lice off salmon in marine cages and their production has risen dramatically in the last five years. One of the key companies to engage in farming these fish is Iceland-based Stofnfiskur, who have played a key role in designing the new grader, in conjunction with fellow Icelanders Vaki.
"There's a huge difference in growth rates between individual lumpfish," explains Sölvi Sturluson, operation manager at Stofnfiskur's Hafnir lumpfish hatchery, "which has meant that we regularly have to grade them."
The demands of this operation inspired Sölvi to come up with a novel solution.
"Traditonally this has been done by hand, using a cradle, every two weeks – an operation that requires a lot of manpower and, thanks to the spikes on the lumpfish, has also led to a lot of sore hands," he continues. "That inspired me to come up with an idea that some kind of mechanised grader should be built. After sketching a couple of possible designs I arranged a meeting with Hermann Kristjánsson, MD of Vaki, a Division of Pentair Aquatic Eco-Systems.
"Hermann was willing to complete the technical elements and fine-tune the design and, after a few months and many discussions and adjustments, it was ready for test run," continues Sölvi.
Within just over a year the project had borne fruit – one of the world's first tailor-made mechanical lumpfish graders.
"The protoype worked even better that we'd hoped and we've been refining the design ever since, and now have several systems in use – in Iceland, Scotland, Wales and England – while we're about to launch in Norway too," says Sölvi. "The benefits in our hatchery have been considerable – we've gone from needing three people to handgrade each tank to just one person to keep an eye on the machine."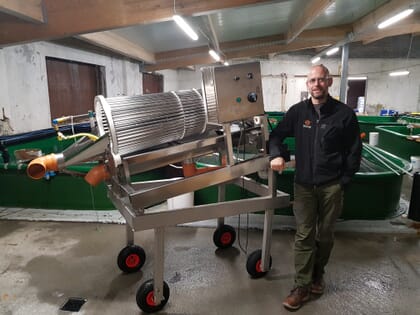 "Sore shoulders and hands are now a thing of the past, while the lumpfish – which are very robust and able to spent considerable time out of the water – go easily and gently through the machine, coming out well graded in three different sizes," he adds.
Sölvi is thrilled to have seen his design turn into a practical solution so swiftly and is thankful for the role Vaki has played in allowing this to happen so swiftly.
"This co-operation with Vaki, who were willing and able to transform my idea and simple drawings into a real functional grader has been very rewarding – especially as it worked!" he comments.
And Vaki agree that the project has gone very smoothly.
"We've had a longstanding collaborative relationship with Stofnfiskur and it's been a nice, very Icelandic, way of doing business," reflects Vaki sales manager, David Jarron.