The contract comprises delivery of an AKVA Center 450 Comfort feed barge with eight feed lines, as well as camera equipment, rotor spreaders, electrical cabinets and wiring.
"We're in the start-up phase of our cage farming business and are pleased to establish a relationship with a solid, competent and large-scale supplier," says CEO Stein Ove Tveiten in Arctic Sea Farm hf.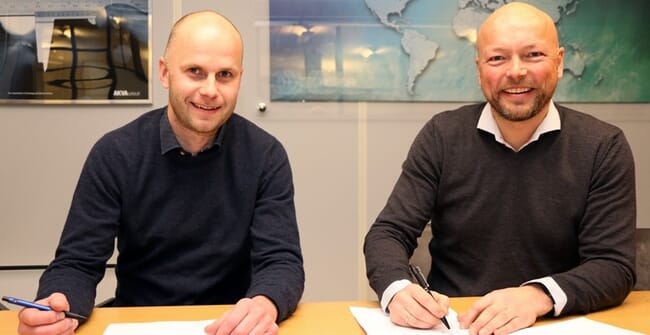 The barge is scheduled for delivery early autumn 2018 and will be put into operation at a new facility in Dyrafjordür in the Westfjorden area at Iceland. AC 450 Comfort has contemporary design and large integrated storage tanks. "As we see it, good equipment is vital to succeed with our efforts. We have an ambition of reaching a production of 2.5 million smolts next year. This year we're starting up two new facilities and gradually expanding our business," Tveiten says.
Icelandic expansion
Iceland's largest salmon producer, Arnalax, recently voiced ambitions to grow the industry substantially - from its current level of 10,000 tonnes a year to 50,000 tonnes within five years. And AKVA's regional director for Southern Norway and Nordic countries, Stig Martin Bø, says his company has been working determinedly over a long period of time to enter the Icelandic market.
"We've previously delivered an AC 650 Panorama barge to Arnalax, and in November we sold an AC 450 Comfort barge to Laxar, which is scheduled for delivery this spring. When including our two latest contracts, which both has options for additional barges, it's safe to say we have a high market share when it comes to feed barges, feeding systems and sensors," says Bø.
"Iceland is an exciting emerging market," he adds. "We see great opportunities for further growth."
AKVA is, along with Egersund Net and Egersund Trading, already represented in Iceland by Egersund Island hf. In order to provide its clients with the best possible support, the equipment provider also plans to establish a service station here this spring.
"AKVA group's competence and local presence at Iceland were important factors for our choice of supplier. AKVA group also stood out by offering a solid training package. This will ensure good training and support in use of equipment and functionality both before and after the barge is put into operation," says Tveiten.
The contract with Arctic Sea Farm also includes an option for a second AC 450 Comfort barge with the same equipment package. Should Arctic Sea Farm choose to trigger the option, the next barge will be put into operation at a new facility in Patreksfjordür in 2019.