Dr Ariav, who is vice-president of Phibro's aquaculture division, outlined some of the key developments in our understanding of the viral disease since the discovery of a mysterious outbreak of mortalities in tilapia that occurred in Bet-Shean valley, in Israel, in 2009.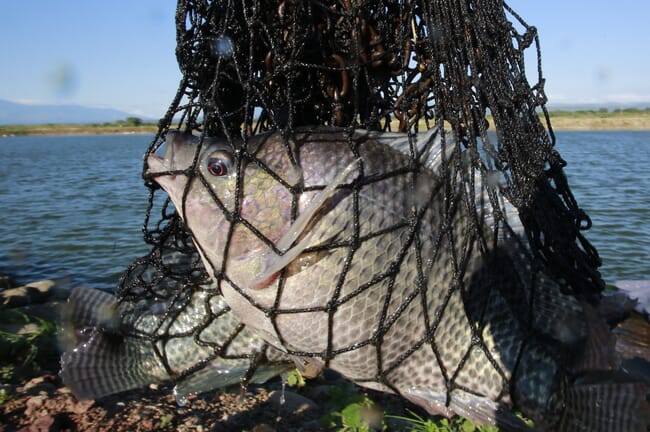 Dr Ariav has 30 years' experience as an aquatic veterinarian and he emphasised the value of biosecurity procedures and monitoring of stocks, stressing the value of PCRs "as a very cheap and straightforward" means of assessing whether the disease is present.

He also highlighted how regulators must check the fish coming into the country, assess the sources of the fish, and perhaps even stress test the fish on arrival.
"If you know of a tilapia hatchery manager in your country who wants to bring fish from a country which had TiLV, or even a country which does not have a notified TiLV presence, you want to be extra cautious," he warned.
For anyone without access to a PCR he suggested exposing incoming fish for a few weeks to very high temperatures, because if these fish are kept at the lower temperature range then they will not express TiLV.
"If you're in charge of a region, if you're in charge of a farm you want to do this, you want to do everything possible to prevent the introduction of TiLV into your facility," he stressed.
He also warned of the import of other fish species into the region, in particular other cichlids, which are popular as ornamental fish.
"I don't think we have a definitive answer as to what species may be or may not be carriers of TiLV, but there's a good chance other cichlids [carry it]," he explained.
"Transparency is a critical component in being able to manage the disease – this is true in Israel, this is true in Latin America, this is true in any part of the world. When I talk about transparency – obviously at the level of governments, obviously at the level of public organisations, but just as important among tilapia producers within a region: if you are worried, if you are concerned, if you have a reason to suspect that you may have TiLV you want to notify your colleagues in the region," urged Dr Ariav.
Treatment
If TiLV is detected, he emphasised the need to provide fish with immediate supportive treatment.
"I'm not saying we stop growing tilapia, I'm saying there's a cost – we have to be smart and we have to be aggressive," he argued.
Key components include medication using approved chemicals to prevent fish infected with TiLV from secondary bacterial and parasitic infections.
He also suggested following up treatments with "the good, smart use of immuno modulators and immuno stimulators. We use this in Israel… to enhance the immune system of the fish and we have found this to be a very important component in alleviating some of the losses due to the presence of TiLV in these tilapia operations."
Vaccination
Looing to the future Dr Ariav predicts that some form of effective vaccine against TiLV will be commercially available within five years.
"Vaccination seems to be the only effective solution against infection from a global perspective and a few companies are working on this, but to the best of my knowledge there is no commercial vaccine available right now in the market. But I am sure that three to five years from now we will be seeing an effective TiLV vaccine in the various regions and this will be part of our management just like salmon producers today are vaccinating all those salmon against Vibrio, or rainbow trout producers are vaccinating against Yersinia ruckeri," he explained.
The solution will probably need to be an immersion vaccine, noted Dr Ariav: "because TiLV is affecting fingerlings – fish in the 10, 20, 30 gram range – some of these fish are too small for injection or are labour intensive for injection, so the commercial solution will need to be an immersion vaccine probably, or an oral vaccine."