Despite the potential and significant expansion of its existing aquaculture industry, which is largely land-based, Africa accounts for only 2 percent of global aquaculture production. And, according to leading aquaculture researchers at The University of Cape Town (UCT), this is largely due to resources and expertise.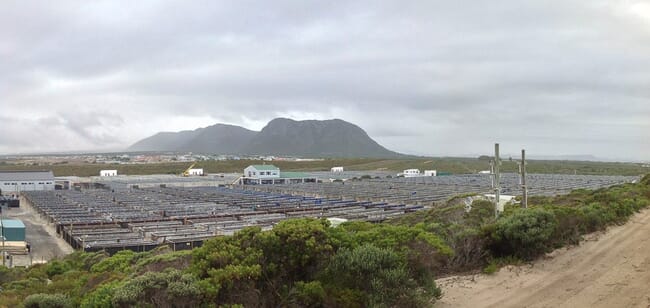 "Of those few aquaculture enterprises that have been successful, most involve expertise from outside," John Bolton, emeritus professor and senior research scholar at UCT's department of biological sciences, explains in an article on UCT's website. "Furthermore, products are often exported and not used by the local community. This, of course, requires suitable infrastructure and sound financial support."
In recognising the potential for aquaculture to provide food security, create job opportunities and boost local business prospects, researchers from across the continent have joined forces to form the Research Network for Sustainable Marine Aquaculture in Africa (AfriMAQUA).
Launched in September 2019, AfriMAQUA aims to bring together marine aquaculture researchers from across sub-Saharan Africa, as well as France, to exchange knowledge, pool research efforts and strengthen capacities. The overarching goal is to facilitate scientific cooperation for the development of sustainable marine aquaculture.
"Marine aquaculture output in sub-Saharan Africa is very low with a significant portion being produced in South Africa," explains Bolton, who is also one of UCT's AfriMAQUA project leads. "A major aim of AfriMAQUA is to link scientists working on various marine aquaculture projects in the region to enable synergy and increase the profile of the industry."
AfriMAQUA's kick-off meeting took place at facilities in and around Cape Town, and included delegates from the Ivory Coast, Senegal, Tanzania, Kenya, Mauritius, Namibia and South Africa. The network is funded by The French National Research Institute for Sustainable Development (IRD) and coordinated by IRD's Dr Maria Darias.
As part of larger AfriMAQUA activities, UCT will launch One Health: a major marine aquaculture project led by Vernon Coyne, an associate professor in UCT's department of molecular and cell biology.
"The programme is focused on ensuring the healthy production of aquacultured fish and shellfish," Coyne explains. "We're taking a holistic approach, so it's developing feeds that would boost the immune systems of the animals that you're farming and also improve growth rates."
The project's objectives include:
Developing vaccines against emerging diseases of indigenous fish that are cultured.
Developing feed supplements for cultured abalone and sea urchins.
Determining the effect of seaweed and probiotic supplements on rainbow trout reared in seawater.
Understanding the community structure of microbes living on sea lettuce (of the genus Ulva) grown in different conditions.
"We hope that a lot of the research will eventually lead to start-ups – things like probiotic and vaccine production," Coyne says. "These spin-off companies will use the technology we generate here to service existing aquaculture farms and new farms throughout South Africa – and even the rest of Africa."