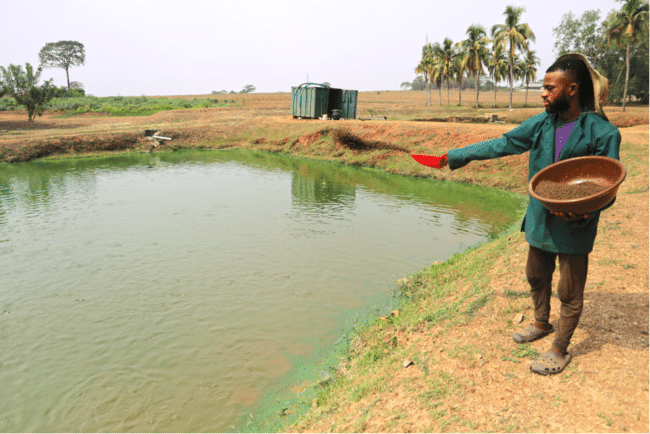 With support from the Bill and Melinda Gates Foundation (BMGF), the comprehensive study aims to fill critical knowledge gaps and inform future investment decisions that facilitate the inclusive growth of Nigeria's aquaculture sector. The scoping study reviewed the current status of Nigerian aquaculture and outlined the challenges and opportunities to increase fish consumption across sub-Saharan Africa.
"The federal government appreciates and values the collaborative work between WorldFish, the Bill and Melinda Gates Foundation and the United States Agency for International Development, in partnership with the Nigerian Federal Department of Fisheries and Aquaculture, to assess the contribution of fish and other aquatic foods to the people of Nigeria and to identify the bottlenecks, challenges and opportunities for this valuable resource," said Nigeria's Minister of Agriculture and Rural Development, Mohammad Mahmood Abubakar.
The study concluded that, through targeted interventions and investments in supply chains, domestic fish production can be increased to sustainably enhance food, nutrition and economic security.
"This comprehensive study comes at a crucial moment as the Nigerian government is looking at developing aquatic food systems to nourish our growing nation and provide economic opportunities for our citizens while respecting environmental health," said Abubakar.

Though Nigeria is the second largest aquaculture producer in Africa, the country's aquaculture industry is constrained by a lack of resources and technical knowledge. Due to mounting overhead costs, aquaculture production in Nigeria decreased between 2016 and 2018, largely attributed to a spike in the price of commercial fish feed and currency deflation.

Unable to sustain the population's demand for aquatic foods, Nigeria has become Africa's largest importer of fish. In 2018, approximately 45 percent of the country's fish supply was imported, leading to a trade deficit of nearly one billion USD.
In the scoping study, WorldFish Foresight Model projections predicted that the fish supply-demand gap in Nigeria will further widen over the coming decades without intervention. Marine capture fisheries are already operating at maximum capacity; surging demand will have to be met either by additional imports, aquaculture or artisanal inland fisheries.
"Pursuing a strategy to lessen dependence on fish imports while increasing fish supplies through aquaculture growth is the most likely way to meet future fish demand and improve national economic outcomes," said Rohana Subasinghe, WorldFish's technical lead on the project.
Practical measures
In order to build the capacity of the aquaculture sector, the scoping study determined that access to high-quality inputs must be improved. In a preliminary survey of fish farms in eight states across Nigeria, the majority of farming households responded that the lack of fingerlings, or the immature fish used to stock ponds, and the price of commercial fish feeds were the primary barriers to tilapia farming.
Hatcheries, dedicated to the breeding, hatching and rearing of fish, are tasked with providing fish fingerlings to farmers. However, the scoping study concluded that the country's hatchery production system is currently incapable of supplying enough fish to smallholders prepared to enter aquaculture production.
The study determined that neither the quantity nor genetic quality of fish seed, or fertilized fish eggs, available in the country were sufficient to support aquaculture growth. Moreover, commercial fish feed was found to be too expensive for most smallholders.
"Inbred stock (from a lack of genetic diversity) and the high cost of fish feeds are the biggest challenges I face as a fish farmer in Nigeria," explained Marcus Adeniyi, general manager of the Ijebu Development Initiative on Poverty Reduction (IDIPR) fish farmer's cooperative.
In a bid to make commercial fish feed more accessible, the report's authors suggested that corporate feed manufacturers invest in using locally available nutrient-rich leftovers - like cassava and banana peels - to reduce production costs and food waste and loss simultaneously.
*A longer version of this article, by Kate McMahon of WorldFish, is available here.