The £26.5 million recirculation facility (RAS) replaces a much smaller hatchery which had been on the site more than 38 years, expanding the workforce from 5 to 18.
The hatchery team will grow salmon from eyed eggs into smolts, fry and parr which will then be transferred to the company's 49 seawater fish farms and 5 freshwater loch sites to be grown into mature fish.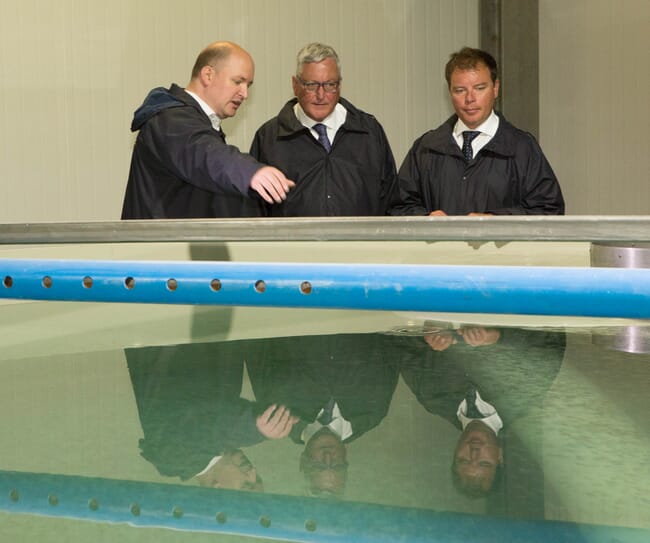 Speaking as he officially opened the new facilities, Rural Economy Secretary Fergus Ewing said: "The opening of this new hatchery at Inchmore is excellent news for Marine Harvest, as it will allow the company to expand its operations and create new jobs in the Highlands.
"With farmed salmon continuing to be the UK's number one food export, this expansion shows the confidence within Scotland's aquaculture sector as companies like Marine Harvest look at innovative ways of working to ensure sustainable growth."
The RAS facility is almost identical to the Lochailort hatchery opened by Marine Harvest in 2013 and will allow Marine Harvest to stock all their Scottish farms with fish they have grown themselves from eggs.
Ben Hadfield, Managing Director of Marine Harvest Scotland, said: "This new hatchery is a much needed facility which will allow us to supply our expanding network of sea farms across the western Highlands and Islands and meet the increasing demand for Scottish salmon from across the world.
"It is part of our plans to deliver an efficient and sustainable business with a long term future and we are delighted the Cabinet Secretary was able to join us today to declare it officially open."
The new hatchery is the latest stage in Marine Harvest's expansion plans which includes the creation of new open sea fish farms in various locations in the Minch. Farms have already opened off Barra, Uist and Muck, with a new site off the Isle of Rum receiving planning permission earlier this year.