The news was revealed in parent company Grieg Seafood's Q2 report, which explained that their Shetland sites were faring less well than those in Norway and BC.
"Shetland has not performed in line with forecast again," Grant Cumming, managing director of GSS, told The Fish Site. "This has been largely due to sea lice and algae issues, which have reduced our feed input considerably in the quarter."
He does however, have a number of plans afoot to address these problems.
"We are altering our production strategies to further reduce risk by lengthening fallows and implementing water quality improvement strategies to try and reduce lost feeding opportunities. By doing this and working closer with our aquaculture neighbours in Shetland we expect to see an increase in feeding going forward," he said.
EBIT per kilo was NOK 8.3 in the quarter, against NOK 22 per kilo in the corresponding period last year, while the harvest volume was 3,231 tonnes, against 2,865 tonnes in Q2 2016.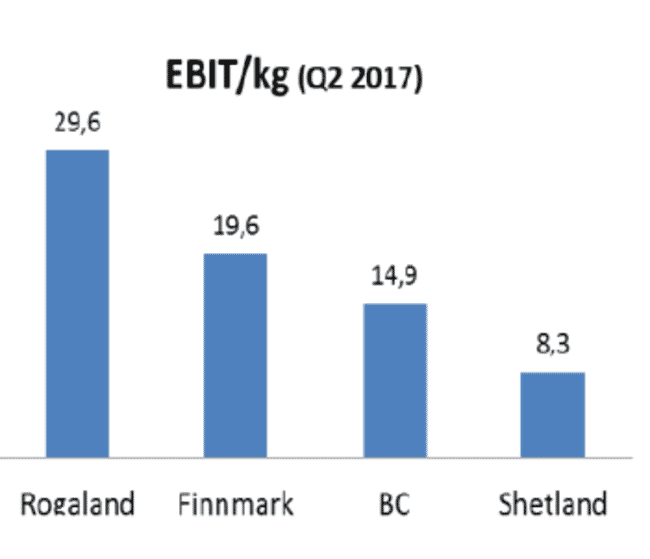 The Q2 report stated: "For some time the Shetland Region has been taking steps to reduce the production time in the sea from 24 to 18 months. Q2 2017 saw the start of harvesting of the first fish under the new production plan, and because of this the costs have fallen slightly. The increased harvest volume has also helped to reduce costs per kilo. This applies particularly to the harvesting plant. Neverthless, costs remain high in Shetland. This relates especially to biological challenges, where sea lice and algae are the main concerns. There is close collaboration with other fish farming parties in the region with a view to finding solutions to these challenges. As a consequence of the above-mentioned biological challenges, the harvest volume from Region Shetland in 2017 is expected to be 3,000 tons less than previously guided."
The report also notes that algal monitoring could help to alleviate the problems caused by blooms in both Shetland and BC.
"One important area is the monitoring of algae in order to determining when feeding can take place and when it should stop, this being decisive for algae blooming," it explains.
Overall results
The company's operations in Norway and BC fared much better and the Q2 harvest volume for the Grieg Seafood Group was 18,503 tonnes, up 14% from 16,263 tonnes in the corresponding period last year. Combined with higher prices this resulted in total operating income of NOK 2.03 billion, an increase of 21 % compared to the same period in 2016.
Harvest volume for the year are expected to be 67,000 tonnes – 3,000 tonnes lower than last forecast.