Fish processing
According to data from the Fisheries Committee, 49 enterprises in 2005 were involved in Fish processing, and rose to 57 in 2006. Currently, Fish processing and storage is completely controlled by the private sector (irrespective of geographical location).

Fish processing enterprises can be divided into two groups: (i) older enterprises that have "inherited" equipment from Soviet times through privatization (e.g. Atyraubalyk, Balkhashbalyk and Zaisanbalyk); and (ii) new enterprises that have started their activities since the middle of the 1990s and that principally focus on the processing of zander fillets; enterprises include Ulkenbalyk Ltd Co., Rybprom Ltd Co. and Karatalbalyk Ltd Co. These latter companies are noted for introducing new technologies in their operations – principally, skinning machines for removing the head and the filleting of zander – although the fillet at present is cut and packed manually.

The majority of Fish processing plants are not HACCP or ISO certified, but developments in this area are being made under pressure of the export markets.

The Fisheries Committee suggests total investment in the fish processing sector amounted to US$195 000 in 2006. However, as many companies have increased their capacity in recent years, and the cost of an Individual Quick Frozen (IQF) freezer is around US$95 000, the real level of investment in the subsector is likely to be much higher, especially as private investment data are not included in the offi cial statistics.

All the equipment is imported from either China or the Russian Federation. Actual processing capacity can be determined by the level of Fish exports – which suggests a processing level of over 30 000 tonnes annually across the whole country. The main constraint to expansion is the availability of financing for upgrading the technical efficiency of the plants. Processing plants can be stratified into three types as outlined in Table 11.
TABLE 11
Fish processing activities in Kazakhstan
Processing plants, categorized by size and techniques available
Species
Bream, Caspian roach
Zander
Common carp, perch, catfish, carp, pike and other freshwater fish
Sturgeon
Products produced
Large enterprises five are European Union certified for exports (evisceration, smoking, drying, canning, filleting, production of fish liver oil, etc.)
Cured, smoked, mince, canned
Freshly frozen, filleted
Carcass, fillet
Caviar, sturgeon meat, smoked meat
Medium-sized enterprises (smoking, filleting and drying)
Cured, smoked, freshly frozen
Freshly frozen, filleted
Freshly frozen
Small enterprises
Fresh
Fresh
Fresh
In addition, many women from rural areas are engaged in Fish processing for sustenance purposes, mainly in spring and autumn when supplies are more plentiful. They purchase Fish from amateur Fishermen (or obtain Fish from members of their extended family or neighbours), and smoke or cure it at home, albeit in somewhat unsanitary conditions, before selling it in local markets, railways stations and along roads.
Fish storage
In large cities, there are storage centres for Fish products that are used by small wholesalers who purchase small batches (generally not more than 5 tonnes) from individual suppliers.

These batches are then broken down into segments of 100–200 kg and distributed through the retail trade network. A wide assortment of Fish products are offered in large cities. The biggest suppliers however are the processing plants that are European Union (EU) certifi ed. They supply whole Fish, mince, zander "cheeks", Fish belly, and cured and smoked Fish products. For example, Rybprom Ltd. supplies the nation's biggest market in Almaty with bream, common carp, catFish, crucian carp, fillets of all lake Fish (except bream), and bream mince. The large processing companies have their own cold storage and freezing facilities and warehouses to store the (often frozen) Fish and build up stocks for high season. The only domestic company that supplies Fish snacks, such as pieces of cured or smoked bream in small packages, is Mordelikates Ltd in the city of Karaganda.
Distribution and marketing of Fish and Fish products
All Fish markets and wholesale distribution companies are in private hands. Open markets in large cities and towns can be differentiated according to their appearance, range of products offered and prices. In large cities, Fish markets are generally well equipped, prices are higher and the offered range of products is richer, while in small towns and villages Fish markets are poorer equipped, prices are lower and the assortment of products depends on the proximity of the settlement to the waterbodies. Quality control requirements regarding the selling of Fish products are stipulated in the "Veterinary- Sanitary Regulations for Production and Sale of Fishery Products" and are overseen by the Sanitary and Epidemiological Station. These regulations state (in Article 5.6.3) that areas where auctions and/ or the wholesale distribution of Fish products takes place shall: (i) be covered, and roofs and walls must be easily cleanable and easily disinfected; (ii) have a watertight, easily washed and disinfected Floor, and be equipped with a water drainage system; (iii) be equipped with wash basins and WC (and wash basins should have washing and disinfecting agents for hands and disposable towels); (iv) be well lit; (v) be used only for the display and storage of Fish products – with no transportation vehicles allowed inside the edifi ce; (vi) all containers must be regularly, at least after each sale, cleaned and rinsed on both sides with drinking water or clean sea water (and, if necessary, disinfected); (vii) special signs prohibiting smoking, spitting, the taking of meals and the presence of animals must be clearly displayed in prominent places; (viii) be closed – if relevant bodies deem it necessary; (ix) have all water supply fi xtures compliant with the terms stipulated in Article 3.4 of the Veterinary-Sanitary Regulations; (x) have special watertight containers made from stainless steel for those Fish products which are deemed unfit for consumption; and (xi) have a special room for inspecting Fish products.

In addition, after unloading or the fi rst sale, the Fish products must be immediately delivered to the destination in accordance with the terms stipulated in Article 5.6 of the Veterinary-Sanitary Regulations (Article 5.6.4) or, if this is not possible, stored in designated sales areas with cold rooms in compliance with the Veterinary-Sanitary Regulations (Article 5.6.5). Kazakhstan does not have any auctions for fresh Fish at the moment. Processors and wholesalers conclude agreements with Fishers – paying cash on the spot or bartering – and transport the purchased Fish to their (processing) facilities. In the case of larger enterprises, these can simply be stations where primary processing is undertaken or, alternatively, the Fish is transported directly to the processer's main installations.

Margins are high, with the price paid to Fishers generally very low, except in the instances of Fish destined for the export market (zander, sturgeon). In the Sary-Arka market in Almaty, smoked bream was being retailed in 2007 at a price of tenge 450 (around US$4), while Fishers were receiving around US$0.5 for the fresh product on the lake's shore.
Fish market in Sary-Arka, Almaty, 2007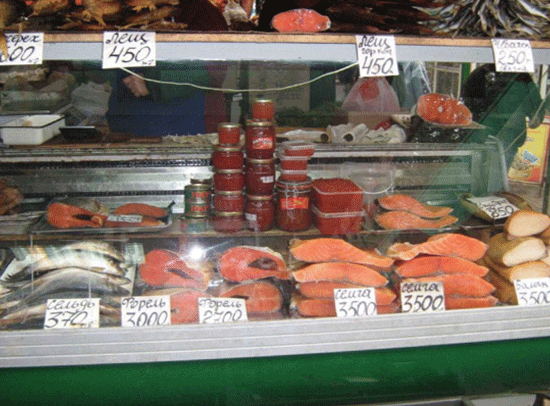 Fish is generally transported in cars without refrigeration equipment. But in the summer Fish is sometimes transported in refrigerators layered with ice or in specially insulated container (thermo) boxes layered with ice. The ties between processor and Fisher have evolved over time and it is very difficult for outside suppliers (Fish) with no contacts in the trade network to get a good price for their Fish without a preliminary agreement. Nevertheless, recreational Fishers (including amateur Fishermen or Fishermen who hold a license for sport Fishing) also supply fresh Fish to local markets or sell it to wholesalers.

Three types of purchasers can be identifi ed (Table 12), although the importance of each group in the domestic market (in terms of market share) is unknown:
Small purchasers. These purchasers own one Fish landing site. They do not have processing facilities nor, in most cases, refrigerators for primary storage of Fish. They buy fresh Fish from their Fishers and sell it directly to bigger processors or buyers.
Medium-sized purchasers. These purchasers own two or more Fish landing sites, have some processing facilities for storing and freezing Fish, and sometimes may have small shops for the retail of smoked or cured Fish. They buy fresh Fish from their contracted Fishers, smaller users and/or intermediaries and sell it directly to larger wholesale buyers.
Large purchasers. These purchasers have two or more Fish landing sites and often work in more than one water basin. Fresh Fish is bought from their contracted Fishers and small Fishers, while freshly frozen Fish is bought from medium-sized purchasers. The bigger companies, such as Atyraubalyk JSC (who supply caviar and sturgeon), Rybprom Ltd. (the largest Kazakh supplier of zander fillets to Europe), Ulkenbalyk Ltd. (pikeperch fi llets) and Balkhashbalyk JSC (pikeperch filletsand bream) have export numbers allowing them to export the Fish to the European Union.
TABLE 12
Fish Purchasers in Kazakhstan
Purchaser
Product
Place of sale
Price obtained
Large
Processed fish
External market – Europe and CIS. Internal market – supermarkets and other large points of sale, budget organizations (tender supplies to educational and medical institutions, such as hospitals, kindergartens, military organizations, etc.).
High
Medium
Processed and freshly frozen fish
External market – the CIS. Internal market – as with large purchasers, some sales to local retailers.
High –medium
Small
Fresh fish
Internal market – local retailers.
Low
The Fish retail chain (Figure 4) in Kazakhstan is extensive in both geographic and numeric terms, but to date no data have been collated to identify either the number of retail points or their distribution across the national territory.
FIGURE 4
Fish market supply chain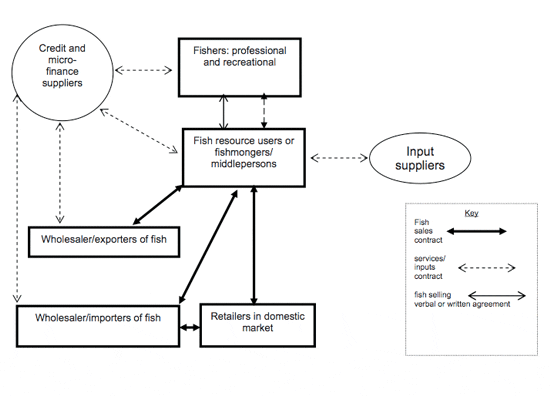 Picture Courtesy of Mr. S. Timirkhanov
Two further points should be made about the domestic Fish market in Kazakhstan. First, there is a marked regional variation in Fish prices, as shown in Annex 7. Fish prices in the main cities of Astana and Almaty tend to be higher than those in the countryside. In particular, the prices for nearly all species of Fish for sale are highest in Astana. The distance to Fishing locations must play a major role in this price difference, as prices for the main species caught are signifi cantly lower in markets near Fish landing sites. For instance, in Balkash, situated next to the lake with the same name, Fish is the least expensive of all major marketplaces in Kazakhstan. Also in Atyrau, Aral and Aralsk, the species caught and sold in nearby waters are considerably cheaper than those originating from the more distant locations. As an example, bream is about fi ve times as expensive in Aktau as in Aralsk, the latter being a major landing site for these Fish. In addition, some species (e.g. sturgeon, herring and whiteFish) are not available in the smaller markets as there is less demand for species of this type in these markets.

Second, there is a limited seasonal variation in Fish prices, although this is not visible in all markets and for all species. An indication of the seasonal variation is presented in Table 13 below. The table also shows that a retail price increase could be observed for years 2005 and 2006 for fresh Fish, cured Fish and canned Fishery products. This trend has largely continued in recent years.
TABLE 13
Average seasonal market retail price (in US$) per kg of fish or fishery product in Kazakhstan, 2005–2006
Fish or Fish product
16 January 2005
14 April 2005
14 July 2005
16 October 2005
16 January 2005
14 April 2006
14 July 2006
16 October 2006
Fresh
1.42
1.5
1.46
1.47
1.59
1.6
1.58
1.6
Cured
3.36
3.53
3.58
3.66
3.86
3.97
4.04
4.07
Herring
2.41
2.5
3.01
2.54
2.61
2.59
2.6
2.61
Canned (conventional can)
1
1.02
1.03
1.6
1.09
1.12
1.14
1.15
Source: Agency of the Republic of Kazakhstan on Statistics
Export
The wholesale supply of Fish to external (as indeed to internal) markets is undertaken by large- and medium-sized enterprises that hold export licenses. At the moment of writing this review, only fi ve enterprises have export licenses. A strong demand for freshly frozen Fish (exported at a temperature of -18 OC) comes from a number of large Fish processing plants in the Russian Federation and the Ukraine, and a good part of Fish products exported from Kazakhstan are directed there. There is direct export to Europe as well. Kazakh companies, working mostly with French and German partners, supply cured or freshly frozen bream to these partners. In general, the partners in the export market repackage, relabel and prepare the products for retail sale in line with the existing national level agreements made with supermarkets or other points of sale. Freshly frozen bream is the main exported Fishery product of Kazakhstan.

Exports to the CIS countries are governed by the decree on "Veterinary-Sanitary Regulations for Production and Sale of Fishery Products". A special form (No. 2 Veterinary Certifi cate) is required to be completed for exporting Fish to CIS countries. Domestic import norms within the CIS were inherited from the USSR, and technological developments are not refl ected in the majority of such norms (given that they have often not been updated).

Fish products to be exported to the countries of the European Union must satisfy all the requirements of Directive 91/493/ЕЕС (and related European Union legislation in this fi eld). While Kazakh enterprises have reached European standards in terms of receiving, freezing and storing of Fish products, there is some slippage in terms of internal quality controls for raw produce and the packaging thereof. HACCP approaches are not in widespread use in Kazakhstan, and this is refl ected in the export options available for Fishery products from Kazakhstan.
Import
There are no data on the number of companies entitled to import Fish products, although statistical data gathered by the Customs Control Agency and analyzed by the Fisheries Committee do give quantities and distinguish between the types of imported produce. Aggregated data are available (see figure 5). In many instances importing companies do not specialize in the importing of Fish products. For example, Pulsar Company in Almaty which retails imported canned Fish also imports many other products; categorization for analysis by the Fisheries Committee is made difficult as there is no regulation that requires companies to report disaggregated data on Fish and Fishery products imports by species and form. Many supermarkets also retail imported Fish products (mainly from Moscow and Kaliningrad in the Russian Federation or China) in small packages as snacks, to complement beer for example. In the bigger cities, imported Fish products from European countries can be found.
FIGURE 5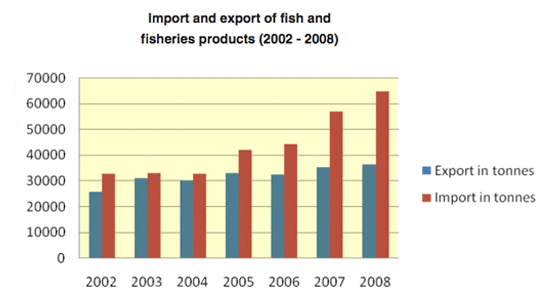 Source: Fisheries Committee.
The Ministry of Industry and Trade of the Republic of Kazakhstan is in the process of reconsidering present rates of import customs duties in order to harmonize and rationalize rates given its obligations within the regional organizational framework (specifi cally to comply with the unifi ed customs tariffs of the EurAsian Economic Community)2 and in relation to the country's ongoing process towards accessing the World Trade Organization (WTO). Kazakhstan applied for WTO membership in 1996. Current import and export regulations are given in Table 14.
TABLE 14
Current customs regulations and charges (import and export of fi sh products)
Activity
Regulation/charge
Importing/exporting goods to or from Kazakhstan
Import and export coding determined according to trade nomenclature of economic activities
Taxation of goods
In the case of imported fi sh products, the customs duty charge depends on the country of origin. Value added tax (VAT) is chargeable at a rate of 14 percent
Tax exemptions (imports)
The CIS countries are exempt of import tax on fishery products
Customs freight declaration (CFD)
Licences are only required to export caviar
Licences, quotas for import/ export of goods
Fees levied: Decree No. 765 of 14.08.2006 levies a fee of 50 euros for the first page of the CFD document, 20 euros for each subsequent page
Phytosanitary, veterinary, sanitary or ecological certificates
Veterinary and sanitary certifi cates from the Astana Veterinary Department are required for exports (permission is based on laboratory studies and confirmation that the product meets accepted standards)
Special ministerial permission needed
From the Ministry of Agriculture for exporting/importing fish:

Species and derivatives (of) that are under threat of extinction (Decree No. 31 of 27.01.04)
(Exporting) whole fish, its parts and derivatives (Decree No. 16 of 24.05.06)
In 1994, an agreement was reached among the CIS countries and a protocol on the mutual recognition of veterinary documents was signed. As a consequence, if Kazakh export products have obtained the requisite national veterinary document, then additional transit permission is not required.
Fish Trade Data
Until the late 1990s, Kazakhstan ran a trade surplus (volume and value) in terms of Fish and Fishery products. Since then, while Fish exports have generally exceeded Fish imports in value terms, a greater volume of Fish is imported than exported (Figure 6 and Table 15).
FIGURE 6
Fish and Fisheries products imports and exports (1995–2002)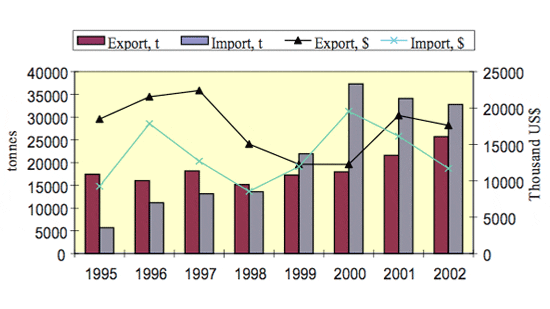 In 2006, Fish imports peaked at 44 182 tonnes (Table 15), costing Kazakhstan US$31.8 million (up from 34 700 tonnes and US$16 million in 2001). Although the majority of imports in volume terms came from outside the CIS region (61 per cent), the bulk of the imports was low quality Fish, such as bream, perch and roach, compared with the relatively higher unit price paid for imports of sander and sturgeon from the CIS region. Imports from the CIS region accounted for 56 per cent of the foreign exchange spent on the import of Fish products in 2006. Frozen, convenience and canned produce accounted for almost 95 per cent of imports.

The divergence in prices between the CIS region and the rest of the world was much more profound in the case of exports, CIS exports retailing at an aggregate unit price of US$0.7 per kg compared with the (European) aggregate unit price of US$5.6 per kg (Table 15). As a consequence, while import volumes exceeded export volumes by 36 per cent, Kazakhstan recorded a trade surplus in Fish and Fishery products of US$18.8 million in 2006.
TABLE 15
Export and import of fish products, 2006
Export
Import
Tonnes
Value US$ (millions)
Average cost per kg (in US$)
Tonnes
Value US$ (millions)
Average cost per kg (in US$)
CIS countries Other countries in the world
26622.0


5882.9
17.9


32.7
0.7


5.6
17302.7


26879.3
17.8


14.0
1.0


0.5
Total
32504.9
50.6
1.6
44182.0
31.8
0.7
Source: Fisheries Committee.
In 2008, the average price for 1 kg of exported Fish increased by 67.91 per cent in comparison with 2006 and became US$2.29, which indicates an increase in proportion of the processed Fish exports because the catch volumes of commercial Fish species had not fluctuated much.
FIGURE 7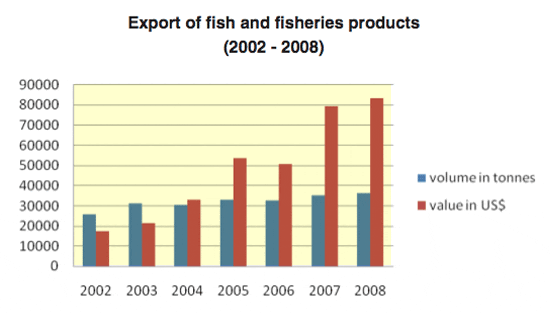 Source: Fisheries Committee.
FIGURE 8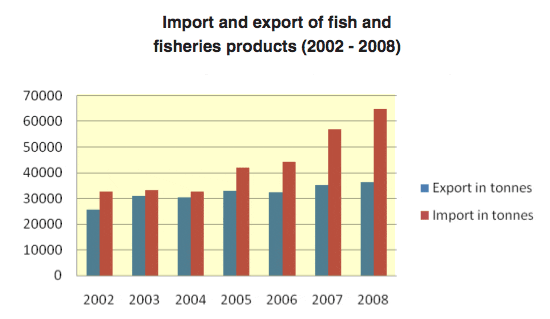 Source: Fisheries Committee.
The import of Fish products steadily rises compared with the exports. Kazakhstan does not re export Fish products. Trade in live Fish and other aquatic animals is minimal.
September 2010