Artic Shipping, which has five vessels under contract with EWOS, is one of the world's largest players in fish feed shipping. It was the first to market in 2002 with a silo-to-silo solution for the bulk transport of fish feeds. In recent years it has built several unique combination boats, which can transport both finished goods and raw materials on the same vessel. The company has 75 employees, all of whom will be transferred to AquaShip in the acquisition.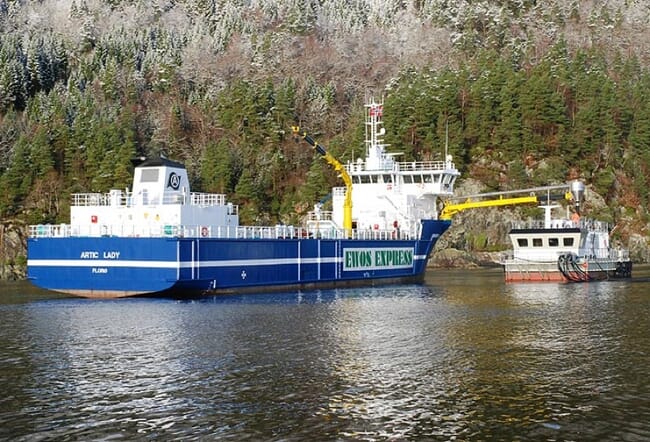 "Artic Shipping fits perfectly into our strategy of building a globally leading player within the broader maritime service segment of the aquaculture industry," says AquaShip's CEO, Sverre Taknes. "With this acquisition AquaShip is represented in the segments of service boats, shipping of fish feed, harvest vessels and live-fish-carriers, giving us a unique position as a complete supplier of maritime services in maritime aquaculture. This is a position we intend to exploit in our further growth."
AquaShip was formed by this year's merger of Norwegian firm Gripship and the Shetland company Johnson Marine. AquaShip has 25 service boats, harvest vessels, service vessels, live fish carriers and feed-vessels and currently operates in Norway, Iceland, Scotland, Shetland, Ireland, the Mediterranean and Chile.
"This is a process that has been going on for some time, and the decision to sell has not been easy," says the founder of Artic Shipping, Ove Vilnes. As we have become more acquainted with AquaShip, we have been impressed with what we have seen. The consideration for employees and EWOS as the client has been more important than anything else in the process we've been through. When we now choose to sell to AquaShip, it is because we are completely confident that it will be 'business as usual' and we have been assured that the buyer will stand for continuity of our core values, which is safety, quality and environment. Artic has a fantastic crew, which we have built the company together with and this is a good solution for all parties involved."
Vilnes will, through his shipbuilding company, continue its work on the development and construction of new, innovative and affordable vessel concepts in the aquaculture industry.
"Artic Shipping is a company we strongly believe in. We therefore have ambitions to build on the expertise and, not least, the technologically leading platform that Artic Shipping AS has today," Taknes concludes.