Aquaculture has become an important part of overall world food production. Unlike present day agricultural farming, aquaculture has had to develop whilst competitive hunting and gathering of fish still exists on a large scale. Whilst aquaculture techniques and methodology have mirrored that in other intensive agriculture sectors, aquaculture is still in its infancy. In the northern hemisphere salmonid aquaculture and carp culture dominate the freshwater fish aquaculture sector. Farmers and the investment community are constantly looking to increase value and volume of products as margins decrease and competition increases. The potential of new aquaculture species is constantly under review and advances noted by those seeking to penetrate niche markets with new and innovative products.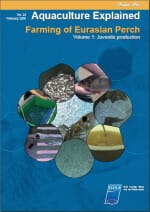 Developing aquaculture techniques for novel species is challenging. Perch farming is no different in this regard and to date in Europe, only a handful of companies have mastered commercial production. This manual concentrates on juvenile production and outlines the various life stages of perch which must be successfully manipulated in a hatchery environment to produce a healthy juvenile population for growout. The expertise required to carry out research and development is an essential component in the development of any new species and in this regard, perch culture in Europe would not have progressed to the stage it is at today without the financial support of the European Union through various funding mechanisms. PERCATECH is the most recent of these research measures, funded through the CRAFT Programme.

1.1. Percatech Project outline
The main objective of PERCATECH was to secure the production of Eurasian perch (Perca fluviatilis) juveniles (3-5 g), in order to sustain the development of European Small and Medium Sized Enterprises producing this novel species. Presently, juvenile availability is sparse and limited to the annual cycle of the reproductive period, which occurs in early spring. Moreover, the quality of supplied juveniles is very variable. Thus, to support the sustainable development of Eurasian perch production, PERCATECH was initiated.

Several scientific objectives characterised the PERCATECH project (COOP-CT-2004-512629-PERCATECH, October 2004 – September 2006):
Assessment of the possibilities (shortening or delaying) to extend the natural reproductive period by the management of environmental conditions,
Optimisation of a reliable protocol allowing the production of out-of-season eggs and larvae,
Development of a protocol of cryogenic semen preservation,
Definition of optimal conditions of broodstock management (especially feeding) allowing the guarantee of reproductive performance and diminished mortality rates of broodstock during the reproductive period,
Production of a domesticated strain with improved growth performance and a comparison of the growth performance of three generations (F1, F2 and F3) of captive juvenile Eurasian perch reared under intensive conditions,
Production of a stock of sex-reversed completely functional males and the evaluation of the productivity gain when rearing all-female populations obtained with hormonally sex-reversed male breeders,
Evaluation of the cost of production of juvenile perch according to different production strategies and under different socio-economical contexts.
A total of six SMEs and five RTDs (eleven partners) were involved in the project.
SME Partners:
Partner 1: Lucas Perches SARL, Moulin du Cany, 57170 Hampont, France (Key person: David Vandevoorde)

Partner 2: Bornholms Hatchery Lakseklaekkeri, Øster Flak 2, Nexø, Denmark (Key personnel: Julia Overton and Helge Paulsen)

Partner 3: EARL Esox, Plate forme des salins, Promenade J.L. Navarro, 34140 Mèze, France (Key person: Emmanuel Rezzouk)

Partner 4: Gebr. Dil Import-Export b.v, Kerklaan 40, 1920 AA Akersloot, The Netherlands (Key personnel: Hein Dil and Tim Eriks)

Partner 5: Rybárství Nové Hrady S.R.O., Stipton 78, 373 33 Nové Hrady, Czech Republic (Key person: Lubomir Zvonar and Theodor Vondra)

Partner 6: PDS Irish Waters Perch Ltd, Knockaghy, Corlismore, Gowna, Co. Cavan, Ireland (Key personnel: Philip Simpson (PDS), Damien Toner (AI), Lucy Watson
(BIM))

RTD Partners:
Partner 7: Coordinator: Laboratory of Animal Sciences, Université Henri Poincaré – Nancy 1, 34 rue Sainte Catherine, 54000 Nancy, France (Key personnel: Pascal Fontaine, Jean-Noël Gardeur, Neil Wang and Fabrice Teletchea)

Partner 8: Facultés Universitaires N.D. de la Paix de Namur, Rue de Bruxelles 61, 5000 Namur, Belgium (Key personnel: Patrick Kestemont, Robert Mandiki and Emilie Henrotte)

Partner 9: Centre de Formation et de Recherches en Aquaculture, University of Liège, Chemin de la Justice, 4500 Tihange / Huy, Belgium (Key personnel : Charles Mélard and Carole Rougeot)

Partner 10: The Netherlands Institute for Fisheries Research, Haringkade 1, 1970 AB Ijmuiden, The Netherlands (Key personnel: Henrice Jansen and Edward Schram)

Partner 11: Research Institute of Fish Culture and Hydrobiology, University of South Bohemia, Zátisí 728/II, 389 25 Vodnany, Czech Republic (Key personnel: Otomar Linhart, Tomas Policar and Marek Rodina)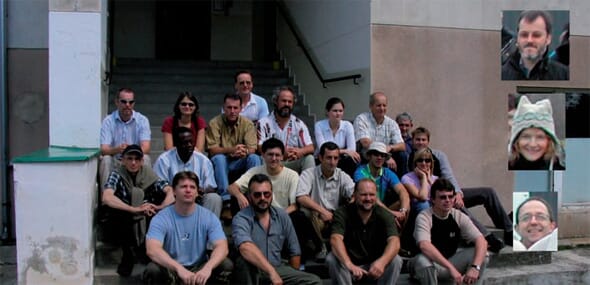 Percatech Team:
Top- Otomar Linhart, Left to right Damien Toner, Carole Rougeot, Patrick Kestemont, Pascal Fontaine, Emile Henrotte, Henk Van der Mheen, Philip Simpson, Helge Paulsen, Robert Mandiki, Neil Wang, Emmanuel Rezzouk, David Vandervoorde, Julia Lynn Overton, Jiri Musil, Front row: Martin Kocour, Lubomir Zvonar, Theodor Vondra, Tomas Policar. Insert- Charles Mélard (top), Lucy Watson (middle), Hein Dill (bottom).
Further Reading
May 2008