The report shows that global fish production peaked at about 171 million tonnes in 2016, with aquaculture representing 47 percent of the total and 53 percent, if non-food uses (including reduction to fishmeal and fish oil) are excluded. With capture fishery production relatively static since the late 1980s, aquaculture has been responsible for the continuing impressive growth in the supply of fish for human consumption.
With 5.8 percent annual growth rate during the period 2001–2016, aquaculture continues to grow faster than other major food production sectors, but it no longer enjoys the high annual growth rates experienced in the 1980s and 1990s.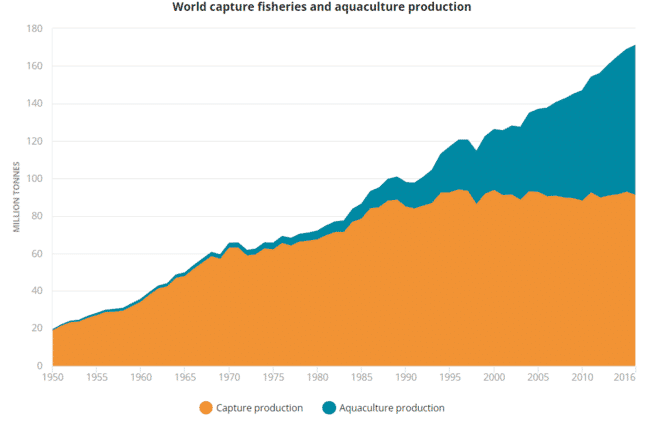 The status of fishery resources
The percentage of fish that are within bilogically sustainable levels has exhibited a decreasing trend, from 90 percent in 1974 to 66.9 percent in 2015. In contrast, the percentage of stocks fished at biologically unsustainable levels increased from 10 percent in 1974 to 33.1 percent in 2015, with the largest increases in the late 1970s and 1980s.
Total marine catches by China, the world's top producer by far, were stable in 2016, but the inclusion of a progressive catch reduction policy in the national Thirteenth Five-Year Plan for 2016–2020 is expected to result in significant decreases in coming years, with a predicted reduction of more than 5 million tonnes by 2020.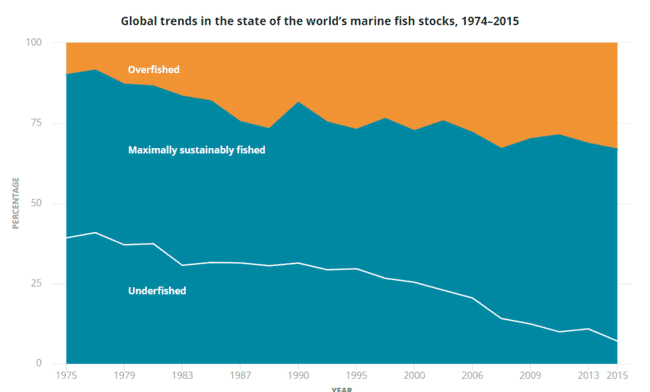 Asia responsible for significant fish consumption growth
Europe, Japan and The United States of America together accounted for 47 percent of the world's total fish consumption in 1961 but only 20 percent in 2015. Of the global total of 149 million tonnes in 2015, Asia consumed more than two-thirds (106 million tonnes at 24.0 kg per capita). The shift is the result of structural changes in the sector and in particular the growing role of Asian countries in fish production, as well as a significant gap between the economic growth rates of the world's more mature fish markets and those of many increasingly important emerging markets around the world, particularly in Asia.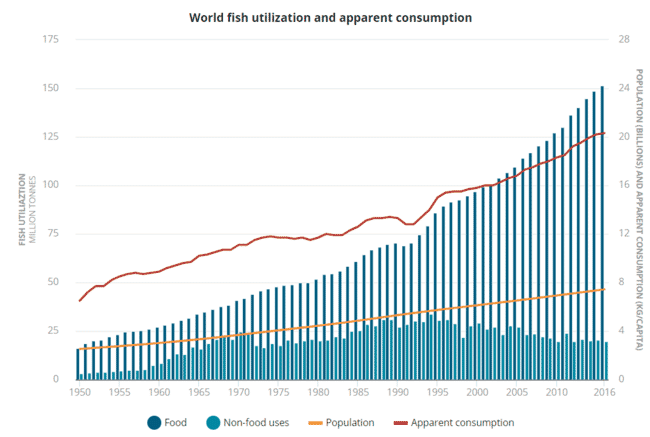 Summary of main outcomes from the projections
The following major trends for the period up to 2030 emerge from the analyses:
World fish production, consumption and trade are expected to increase, but with a growth rate that will slow over time
Expanding world aquaculture production, although growing more slowly than in the past, is anticipated to fill the supply–demand gap
Prices will all increase in nominal terms while declining in real terms, although remaining high
Food fish supply will increase in all regions, while per capita fish consumption is expected to decline in Africa, which raises concerns in terms of food security
Trade in fish and fish products is expected to increase more slowly than in the past decade, but the share of fish production that is exported is projected to remain stable.