And, given that he is putting this theory into practice on his own shrimp nursery and grow-out farm in Vietnam it is hard to argue with his logic. He recently shared a few key pointers with The Fish Site for antibiotic-free shrimp production.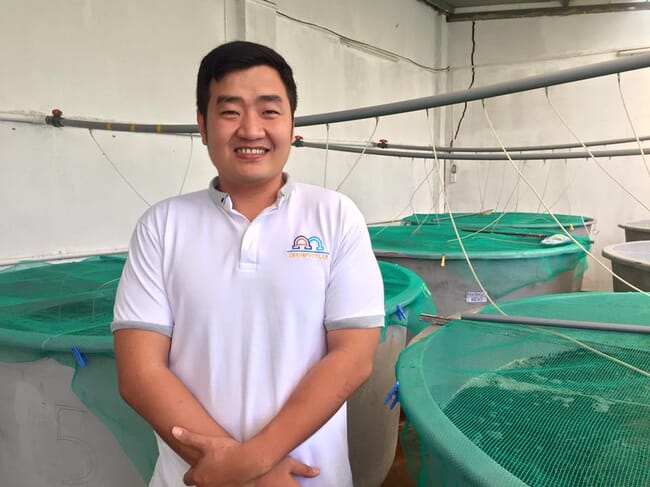 What are most important means to negate the need to use antibiotics in shrimp production?
The key place to start is the need to apply biosecurity in your production unit, and that can be done by better water treatment, biosecurity measures, diagnostics and being sure that the facility is pathogen free.
Bearing in mind that we have to deal with the ubiquity of vibrios and other types of bacteria, the second step is to keep the environment clean – through better pond management and also water treatment and removing sludge and effluent during culture. It's also crucial to use probiotics to take care of the waste – organic waste and also other kinds of effluents like ammonia, nitrite and hydrogen sulphide. By keeping the environment clean you will have clean stock and clean water, and the animal will be very healthy.
We also need to keep the aquatic animal's gut microbiota healthy by applying active probiotics for microbiome moderation. By doing that, vibrios cannot produce enough toxins to cause damage to the animals.
In the feed itself we can apply feed additives, prophylactics and quorum-quenching products to minimise the impact of bacterial infection. Particular ingredients include acidifiers, monoglycerides and phytogenics, which provide a good substrate to replace the use of antibiotics because they can suppress the growth of harmful bacteria and promote a healthy microbiome in the animal gut.
All of these methods are only effective, however, if farmers are well educated and well informed about new developments in farming technology so that they're able to see the broader picture. They also must have a very clear farming protocol from day one.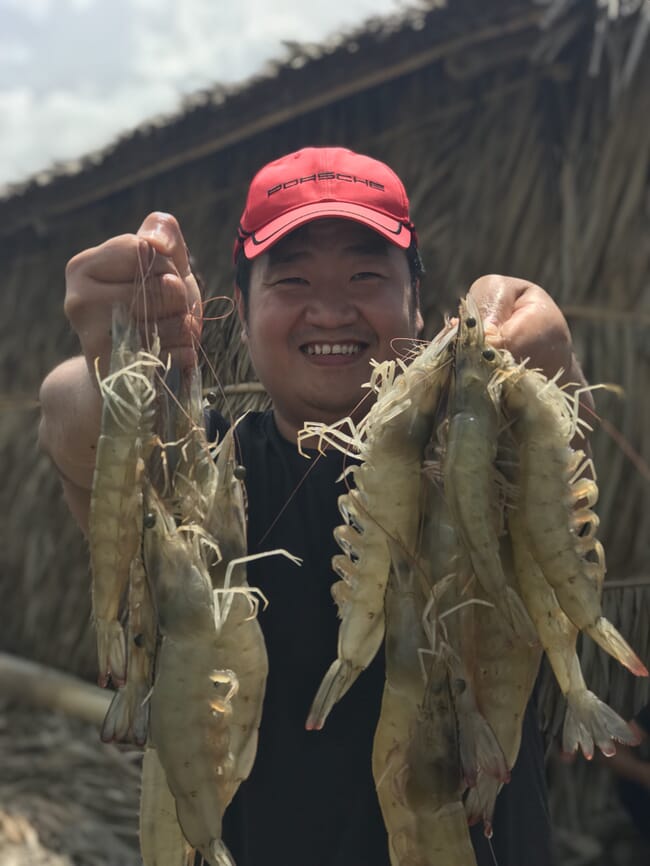 How has applying these techniques affected your own production?
The ShrimpVet lab was founded about six years ago and our main activities were initially in R&D and diagnostics. However, we soon began to realise that in order to better assist farmers we had to apply those concepts into shrimp production. This is why we founded a hatchery – it gave us the chance to start applying these concepts of biosecurity, probiotic maturation in the water, probiotics in feed and better management of the environment. This allowed us, eventually, to produce very high-quality shrimp post-larvae and we can now apply the same concept to our grow-out farm too – we now have a pretty decent sized farm, all our ponds now plastic-lined and we apply probiotic activation from the nursery phase, as well as all the disease-control concept lines mentioned earlier.
How has this worked out for you?
Everything has become very consistent – the survival rate at our hatchery is always about 50 percent, we don't have any issues with luminescent disease or EMS [early mortality syndrome] or other bacterial diseases in the hatchery. At the grow-out farm level we don't encounter either EMS or white faeces when we apply a clear farming protocol with proactive disease-control measures.
How many cycles have you gone without using antibiotics?
We've operated the hatchery for three years – we stock with new nauplii every day in each production unit and each production cycle will last for about three weeks, so we have done at least 30 cycles already. After several cycles we began to master the skill.
On the grow-out farm we have completed several cycles too now and have advocated similar practices in other farms in Vietnam and across Asia. We've also persuaded farmers in Latin America to follow suit – in late 2017, for example, there was a big issue with mortalities in hatcheries in Salinas in Ecuador. We did our diagnostics so we knew what was going on; we advised the hatchery operator to follow the protocol and now we don't hear much about the problems in the hatchery. We've also educated farmers across India and in many other countries in Asia to follow these procedures.
Would you like to see your methods become the standard operating procedure (SOP) for the shrimp sector globally?
It might be too much to come up with an SOP for farming because the shrimp business is very dynamic and we keep facing new challenges every day. But I would say that sharing ideas is important so we can all deal with the situation as it evolves and can plan for any emerging threats.