Vaccine, Judicious Antibiotic Use Can Help Sustain Industry
In Brazil, a major threat to tilapia is streptococcosis due to Streptococcus agalactiae Biotype II infection, which results in high losses. Mortality on one farm can reach 90 per cent at pre-market age a time when producers have already made a substantial investment in feeding and growing the fish, reported Dr Rogrio Salvador, professor, North Paran State University, Londrina (Brazil).

Dr Salvador pointed out that in Brazil, there are S. agalactiae field strains that have already developed resistance to some traditional antibiotics. Therefore, the advent of vaccines to control the pathogen represents a promising new tool that will help the tilapia industry continue to grow.

In efficacy studies he conducted with AQUAVAC Strep Sa, a vaccine developed by MSD Animal Health for control of S. agalactiae Biotype II infection, vaccinated tilapia were significantly better protected compared to controls. The vaccine is safe for fish and highly efficacious against this pathogen, he said at the company-sponsored symposium, entitled Bacterial Disease in Warmwater Fish: New Strategies for Sustainable Control.
Worldwide threat
Streptococcosis isnt confined to Brazil; it is a worldwide threat, said Neil Wendover, a technical manager based at MSD Animal Healths warmwater research facility in Singapore.

Epidemiological studies conducted by the company revealed 500 streptococcal isolates in more than 50 sites in 13 countries. Of the 500 isolates, 82 per cent were fish-pathogenic S. agalactiae and Biotype II was the most globally significant, causing chronic mortality in many Asian and Latin American countries.

The availability of AQUAVAC Strep Sa has profound implications; it could play a key role in enabling the burgeoning tilapia industry to sustain and continue to grow, he said.

Dr Rodrigo Zanolo, an MSD Animal Health veterinarian based in Brazil, presented the results of two controlled trials conducted at separate commercial tilapia-production sites with a history of acute mortality and a positive diagnosis of S. agalactiae Biotype II. Use of AQUAVAC Strep Sa proved to be safe for fish, significantly reduced mortality and improved feed conversion, he said (Table 1).

After discounting vaccination costs, the return on investment when compared to the investment in the vaccine was 7.4 times higher in Trial 1 and 5.3 times higher in Trial 2, he added.

Other disease problems
Other serious and costly bacterial disease problems in warmwater fish are Streptococcus iniae a gram-positive bacterium as well as Edwardsiella ictaluri, Flavobacterium columnare, Francisella asiatica and Aeromonas hydrophila, speakers said.

According to Dr Patricia Gaunt, Mississippi State University (USA), control of these pathogens is possible with AQUAFLOR (florfenicol), a highly palatable, in-feed antibiotic also developed by MSD Animal Health.

Dr Gaunt said based on the results of studies she conducted with the antibiotic in channel catfish and tilapia. AQUAFLOR, which was developed exclusively for use in animals, is approved for use in more than 20 other countries for the treatment of fish diseases caused by bacteria susceptible to florfenicol (FFC), although indications may vary by country. Administered at the recommended dose rate of 10 mg/kg bodyweight for 10 days and based on cumulative mortality, Dr Gaunt found AQUAFLOR was highly efficacious compared to controls (Figures 1, 2).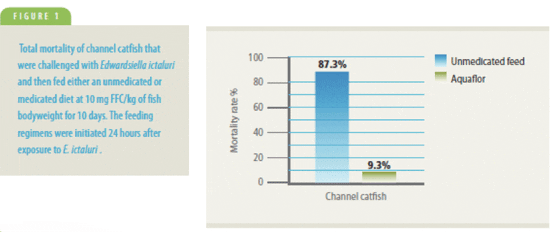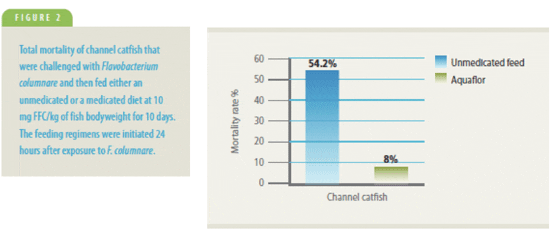 In addition, when AQUAFLOR was used to control a 2009 outbreak of disease due to A. hydrophila in market-size catfish located at several farms in the United States, mortality declined dramatically and, in some cases, stopped completely, she said.

AQUAFLOR should be administered as soon as bacterial disease is recognised in fish; delays of just a few days after the onset of disease signs can mean the difference between success or treatment failure, Dr Gaunt said.

She emphasised that producers and diagnosticians must work cooperatively to maintain the efficacy of this valuable antibiotic by using it as indicated. Treatment days should never be skipped and the full, 10-day treatment should be provided to help prevent the development of resistant bacteria.

When used judiciously in conjunction with good husbandry, vaccines and improved genetic stock, AQUAFLOR is a valuable tool for controlling warmwater fish mortality due to bacterial infections, Dr Gaunt concluded.
Residue depletion
Mark Gaikowski, a biologist with the US Geological Surveys Upper Midwest Environmental Sciences Center, Wisconsin, conducted residue-depletion studies with florfenicol.

Mr Gaikowski, who noted that S. iniae alone reportedly costs tilapia growers worldwide about US $100 million a year due to mortality, fed feed medicated with AQUAFLOR to tilapia in a recirculating system three times a day at twice the recommended dose rate for 10 days. Fillet samples were collected at frequent intervals post-dosing and the concentration of florfenicol amine, a marker for florfenicol residue, was determined.

Residue levels of florfenicol after the last feeding fell below the 1 g/g tolerance level before the approved tilapia withdrawal time of 12 days, he said, adding that the depletion of florfenicol amine from the skin-on fillet of tilapia held in recirculating systems was similar to that reported in continuous-flow systems.

Fish readily consumed feed medicated with AQUAFLOR. There was no reduction in feed consumption during the dosing periods. There did not appear to be any palatability concerns associated with feed medicated with AQUAFLOR in this study with tilapia, Mr Gaikowski added.
Reasons for increased disease
The panelists cited several reasons for increased disease in aquaculture. Dr Melba Reantaso, aquaculture officer for the Food and Agriculture Organisation (FAO), United Nations, based in Rome (Italy), said that although globalization of aquaculture has created new market opportunities for fish farmers and provided low cost sources of nutrition, it has also resulted in intensified production, pressure to improve efficiency and increased movement of animals. This in turn has increased the risk for disease.

Dr Zanolo agreed with FAOs assessment. Increased problems with streptococcosis, for instance, can be attributed to stressors such as high temperatures but also to competition for food and intense fish-to-fish contact.

Dr Reantaso emphasised that safe and effective veterinary medicines, including antibiotics and vaccines, are essential to efficient commercial aquaculture production but their use should be in line with established principles on their prudent use to safeguard public and animal health.
Proceedings
Proceedings from the symposium will be available later this year on the MSD Animal Health website and through local MSD Animal Health representatives.
About MSD Animal Health
Today's Merck is a global healthcare leader working to help the world be well. Merck Animal Health, known as MSD Animal Health outside the United States and Canada, is the global animal health business unit of Merck. Merck Animal Health offers veterinarians, farmers, pet owners and governments the widest range of veterinary pharmaceuticals, vaccines and health management solutions and services.

Merck Animal Health is dedicated to preserving and improving the health, well-being and performance of animals. It invests extensively in dynamic and comprehensive R&D resources and a modern, global supply chain. Merck Animal Health is present in more than 50 countries, while its products are available in some 150 markets. For more information, visit www.merck-animal-health.com.
July 2011