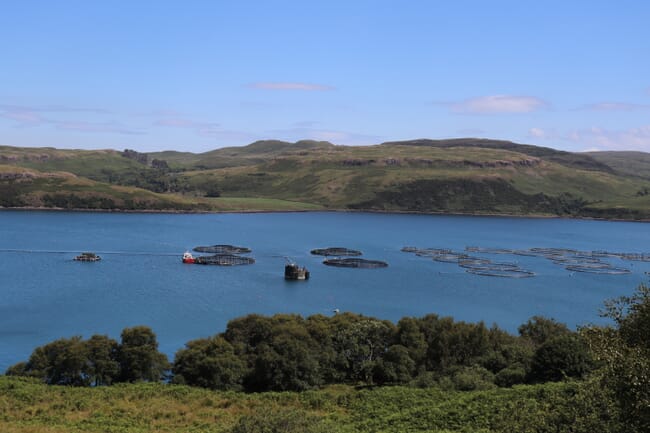 Compassion in World Farming (CIWF) has launched a campaign targeting the animal welfare standards of programmes, including GAA's Best Aquaculture Practices (BAP) standards.
"Animal health and welfare is one of the five pillars of the industry-leading BAP third-party certification program, along with environmental responsibility, social accountability, food safety and traceability," said GAA's George Chamberlain in a statement today.
"Though we appreciate Compassion In World Farming's suggestions for improvements in fish welfare, care must be taken in imposing broad guidelines that might cause unintended consequences given the complexities of each species and region," he added.
Stocking densities
CIWF would like to see species-specific maximum stocking densities, but Chamberlain points out that such standards must account for the wide range of culture systems and management controls around the world.
"Consider shrimp farming, where highly sustainable intensive farms are being developed with advanced controls for animal health, water and sediment quality, feeding, and harvesting. While the densities are higher in these systems than in conventional ponds, stress, disease, and mortality are greatly reduced," he notes.
However, the BAP Program is lowering its stocking density limits for certain species and production methods. For example, salmon net pen farms are currently required to stock at a maximum of 2.5 percent fish to 97.5 percent water, but this ratio is being changed to 2.1 percent fish to 97.9 percent water, based on evidence from scientific studies in Scotland.
Humane slaughter
Issues around the inhumane slaughter of fish have also been raised by CIWF, and GAA agrees that there is scope for improvement in this field.
"GAA shares CIWF's aspiration of adapting specific humane slaughter methods for each aquaculture species," said Chamberlain. "In fact, we would broaden that aspiration to include various sizes of each species. However, this is a journey that requires time for sound science and commercial validation."
At present, Issue 5.0 of the BAP Seafood Processing Standard requires animals to be rendered insensible prior to humane slaughter, according to methods such as those recommended by the World Organisation for Animal Health (OIE). GAA, in collaboration with the Responsible Aquaculture Foundation and with support from the Open Philanthropy Fund, has begun by reviewing published literature, engaging research studies, developing online education modules, and awarding prizes to innovative leaders in this field. As new information is developed and validated, BAP standards are continually revised and updated.
"GAA encourages CIWF to join its animal health and welfare journey by more active involvement in the BAP standards development and improvement process, including the public comment period that all BAP standards are required to undergo, as well as our pre-competitive discussions on animal health and welfare," added Chamberlain.