Catfish Market Report - July 2007
By Helga Josupeit, FAO Globefish. The US Food and Drug Administration (FDA) on 28.6.2007 announced it is blocking the import from China of five species of seafood namely catfish, eel, shrimp, basa and dace until their importers can prove they are not contaminated.
Tough times for Chinese catfish
FDA initiated an import alert against several species of imported Chinese farmed seafood because of numerous cases of contamination with drugs and unsafe food additives.
The medications cited include the antimicrobials nitrofuran, malachite green, gentian violet and fluoroquinolones. Nitrofuran, malachite green, and gentian violet have been shown to cause cancer in laboratory animals.

Use of fluoroquinolones in food-producing animals can result in antibiotic resistance. None of them is approved for use in farmed seafood in the United States and some of them have been shown to cause cancer when fed to laboratory animals for prolonged periods of time.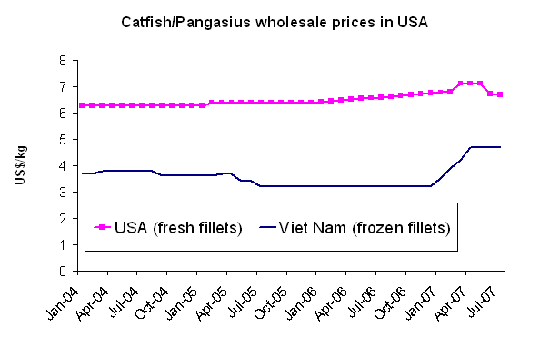 Importers and their export partners in China are finding that complying with FDA testing requirements is adding huge unsupportable costs to shipments, and the cost issues are becoming a major detriment. For example, with each individual sample test costing about $300 on average, a container of 20,000 or 40,000 lbs can easily run up a $25 000 to $30 000 testing bill-- equivalent to a penalty of as much as $0.75 per lb. The industry has been trying to work with FDA to bring costs down -- and in this respect, composite testing is very welcome because it has the potential to greatly reduce the number of specific private lab tests that are required. By mixing six samples prior to the lab test, the cost is greatly reduced. For a Chinese exporter that has a strong domestic market, the price differential gained by shipping to the U.S. is far too small to cover the costs of these types of tests.

That is why there is such pressure to get off the automatic detention list, because only in that way are the products still cost competitive. But with the requirement that an individual company or exporter must have five clean tests before being released, the likelihood is that each of these companies is facing a cost of around $100,000 or so, before they will be cleared.

Thus the regulations almost amounted to an outright ban. The present system is simply commercially unviable, and it is only to preserve long term contractual relationships and future business that anyone is engaging in this at all. One solution is for the FDA to begin to accept testing in home country laboratories prior to shipment.


Catfish import boom in early 2007
The impact of the US import restriction is yet to be felt in the catfish market. It is expected that this move will lead to more consumption of domestic catfish and to higher imports of pangasius from Viet Nam and Thailand. Some positive influence on the tilapia trade – here it is interesting to note that tilapia from China was not banned – is likely. Higher prices in the whole industrial whitefish sector are forecast.

US imports of catfish and basa - by country of origin (in tonnes)
1999
2000
2001
2002
2003
2004
2005
2006
Jan-Apr 2006
Jan-Apr 2007
China
26
86
0
0
326
802
1747
7606
1204
6586
Viet Nam
903
3191
7765
4361
1929
3010
8623
17998
1709
5013
Thailand
18
10
46
45
21
2
1493
3415
988
1716
Malaysia
0
0
0
0
7
0
482
2881
1015
467
Others
617
450
390
221
179
369
1328
2523
309
354
Total
1565
3736
8201
4627
2463
4184
13673
34424
5226
14136
The catfish import boom into the US market continued in the opening months of 2007, before the import restriction became operational. Even though some states of the south had prohibited the sales of Chinese catfish even before the FDA decision, imports of catfish from China grew by more than five times in the January-April 2007 period when compared to the corresponding 2006 period. They almost reached the total 2006 import level. These figures show the massive presence of Chinese catfish on the market, and the fear of market share loss by domestic producers which are mainly based in the southern part of the country. While these producers had been able to use the fact that the pangasius produced in Viet Nam and other South East Asian countries is not the same species as the channel catfish against imports from these countries, they were not able to block Chinese imports, as this country produces the same species as the US fish farmers.

Viet Nam increased exports by three times, but the country lost its top position for catfish/pangasius on the US market. Thailand also reported some growth (80%, which compared with China or Viet Nam looks poor), while Malaysia shipped less tilapia in 2007 than the year before.

US imports of catfish and basa - by products (in tonnes)
1999
2000
2001
2002
2003
2004
2005
2006
Jan-Apr 2006
Jan-Apr 2007
Frozen fillets
1565
3736
8201
4627
2463
4115
12307
32104
4711
12663
Fresh fillets
0
0
0
0
0
0
449
768
39
1301
Frozen whole
0
0
0
0
0
48
900
1128
473
172
Fresh whole
0
0
0
0
0
0
1
2
2
0
Total
1565
3736
8201
4627
2463
4163
13656
34424
5226
14136
Frozen fillets are by far the main catfish product imported into the USA. Imports of this product grew by almost three times. However, it is interesting to note the sudden emergence of fresh pangasius fillet imports, mainly from Thailand and Malaysia. A similar trend can be noticed in the European market as well, and is a development worth watching over the coming months.

Viet Nam improves performance
Prices for the imported Chinese catfish in the US market have declined between Jan-Apr. 2006 and Jan – Apr 2007 from US$ 4.20/kg to US$ 3.80/kg. During the same period, however, Viet Nam managed to get higher prices for its pangasius frozen fillets, up from US$ 2.40/kg to US$ 3.30/kg. This upward trend for pangasius products from Viet Nam on the US market is likely to continue, also in view of the problems for the Chinese catfish exporters described above.

July 2007