The licence for the China Fujian Company's Asutsuare site was revoked in early February after practices, that were believed to be the cause of widespread tilapia mortalities on Lake Volta, were revealed. However, it was not until 28 February that Samuel Appah Sampong, Deputy Director of Ghana's Environmental Protection Agency, was able to confirm that the removal of illegal, non-native tilapia strains from the site had been carried out satisfactorily.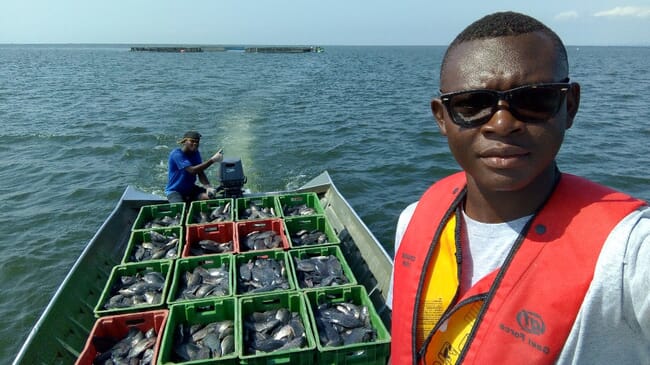 There were fears that, as has been seen recently in some African countries, the government would choose current financial commitments to China over the interests of her aquaculture industry. Last October, Kenyan President Uhuru Kenyatta responded to public outcry about the increase of cheap Chinese tilapia by ordering a ban. However, after the Chinese government threatened to pull out of a major railway project, the ban was withdrawn. There is concern among tilapia farmers in Kenya that their industry may not be able to survive in the face of Chinese imports, which rose to a record value of $170 million in 2018.
The mortalities on Lake Volta, which has accounted for over 90 percent of Ghana's aquaculture production until recently, have led to a 40 percent drop in feed sales by Raanan, the main fish feed producer in Ghana.
In addition to illegally producing the GIFT strain of tilapia fingerlings for sale on the Ghana market, China Fujian was also widely believed to be crossing native and non-native strains. Independent testing of dead fish on the lake confirmed this. But it is believed that there are other health issues that need to be dealt with, while a national tilapia vaccination programme has yet to start.
John Domazoro, farm manager at PBA Fish Farms and executive secretary of the Ghana Aquaculture Association, believes that the situation requires urgent action.
"The recent mortalities have seriously affected most farms on the lake [Volta]. But we must look beyond the damage caused by Fujian and solve the entire problem," he says.
Domazoro, who has published a study on Lake Volta fish health in the Journal of Fish Diseases, says that – in order to avoid health problems – there should be frequent monitoring of farms and punitive measures imposed on those not following best practice.
"I think this is the main problem hindering investment. There is considerable investor interest in our aquaculture industry, especially the Volta Lake. If we would deal with it swiftly and effectively, you will be surprised at the results," he argues.
Domazoro also hopes that the native Akosombo tilapia strain, which is the only strain currently allowed to be produced in Ghana, can be further improved.
"The Akosombo strain is quite viable. But I believe there is room for enriching its growth and performance capabilities. We can take advantage of new R&D findings to improve our strain to withstand climate change and other challenges," he argues.
For now, there is relief among farmers that the immediate threat has been dealt with, although up to 500 people may lose their jobs with China Fujian.
However, Albert Odame, a fish trader at Asutsuare, argues that it's a necessary evil.
"Many of these workers were employees of nearby farms whose production had been badly affected by Fujian's activities, They were selling cheap fish, undercutting the other farms. The industry is better off without them," he argues.