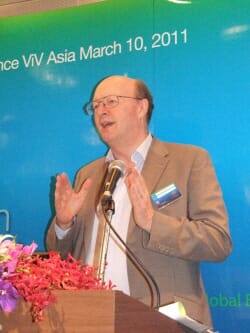 Nicholas Joy, Managing Director, Loch Duart Ltd
"We are food producers, not farmers – food producers are in the selling process – whereas farmers produce food and then think about selling it," said Mr Joy.

When Loch Duart was in its infancy Mr Joy was told that there was no such thing as a primary brand. "Differentiation is too difficult - you don't fit existing schemes - there's no real difference between salmon - the "Scottish Food" terminology is over used", he said.

Currently Loch Duart produces 54,000 tons of salmon. The brand is known in 18 different countries - the company cannot satisfy demand – in fact demand exceeds production fourfold. Loch Duart customers are many and varied : chefs, restaurants, small shops and supermarkets. Top TV chefs such as Gordon Ramsey, Rick Stein and Raymond Blanc are big fans, Claridge's in London serves Loch Duart salmon and its been on the menu at Wimbledon for the last three years.

The business has to know the market and what the customer wants and has to understand customer's needs. It also has to try to anticipate future crises – like food scares. Transparency is important – customers need to know what raw materials go into fish feed.

Mr Joy recounted a situation where he was on a business trip visiting a key Italian customer. They had dinner at a very exclusive restaurant and at the close Mr Joy prepared to pay the bill. His customer would have non of it and promptly picked up the tab himself. As they left the restaurant Mr Joy's client told him : "I was delighted to pay for dinner -your brand is so well known that my extra sales more than covered our evening out!"

Mr Joy posed several questions – do primary producers know what they are selling and who are their customers? Do you know what you sell? Is it the same as established product? What makes it different? Why should it be remembered as being different? Can you deliver a better product? Do customers trust your product and do you like to eat what you grow? Trust in the food chain is very important.

The producer has to ask himself the following questions about what he's producing : Does the customer recognise it? Does the supermarket recognise it? Does the processor need it? Does the chef need it? Would a chef put it on his menu?

No reason to remember = No brand.

Differentiation is vital – the product has to be needed. Branding is all important – most seafood, incidentally, is sold unbranded. Where would a supermarket be without its name – nowhere. Trust between the consumer and producer is vital. In Mr Joy's opinion, many consumers don't trust the producer, despite the product often being sold in a big supermarket. Provenance is incredibly important and the consumer must trust the producer – a clean wholesome image is vital.

When the price of salmon is high , producers are naturally happy, but what can you do when the price is low. You have to "make" the price, emphasising the quality, differentiation, healthy image, plus safety is very important. Highlighting good service, provenance and trust also help ensure a good price.

Some memorable take home messages from the inspirational Mr Joy :
If you don't value food yourself, why sell it!
Communicate, communicate, communicate.
Educate the consumer as you would a friend
Protect your relationships and do everything as you would for a friend.
Farming is a difficult job but selling is difficult too.
May 2011