The 3kg fish were treated for sea lice before being released into the pen, at SinkabergHansen's Skrubbholmen facility, south of Rørvik. They are due to stay at least 30m below the surface – theoretically, putting them beneath the usual range of sea lice – until being harvested this summer.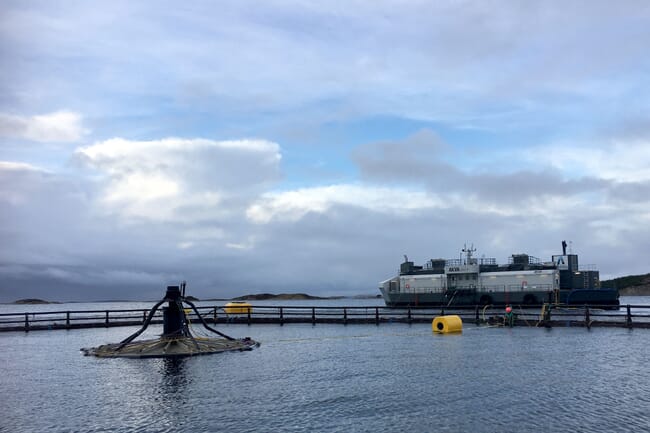 "The operation was well-planned and took place without any issues. The fish quickly calmed down and resumed a good pattern of movement inside the pen," said project manager Trude Olafsen.
The submersible system was jointly developed by Norwegian salmon producer SinkabergHansen, aquaculture supplier AKVA Group and AKVA subsidiary Egersund Net. Although the fish are held far below the water surface, they have access to an air dome in the centre of the pen, which allows them to adjust their buoyancy by filling their swim bladders when required.
The release marks the second time fish have been stocked in the novel system and the company says that a few changes have been made since the initial cohort was harvested – including the installment of load shackles to get a better overview of how the environmental forces are impacting the pen construction. The control system with associated technology has been built into a container to allow easy transfer between barges.
Olafsen said that he is satisfied with this week's operation, which is close to a normal operational situation.
"Everyone involved did a great job during the operation and the fish will now be closely monitored by SinkabergHansen's skilled vets and operational personnel. The project has reached a new milestone."