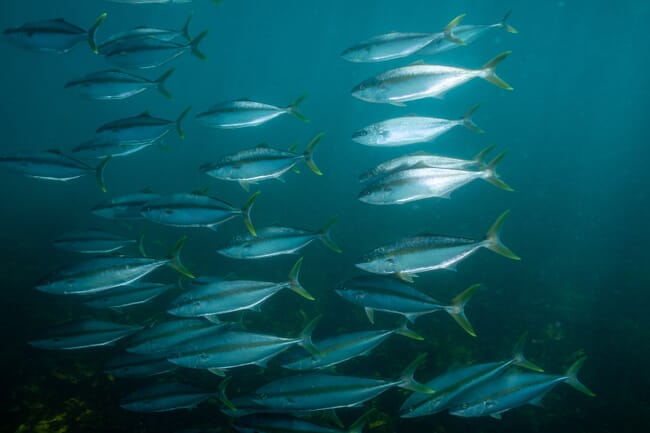 With an average weight of around 100 grams each, the fingerlings were released last week. It will take around 18 months for them to reach the 600 mm minimum size limit to be caught by recreational anglers.

Working with Recfishwest over the past two years, the Department of Primary Industries and Regional Development Aquaculture Research and Development team has capitalised on their extensive knowledge and experience with the species.
So far 75,000 yellowtail kingfish have been stocked as part of an enhancement project for Perth's metropolitan waters, and the team has also grown fingerlings for commercial production and for research into health and nutrition.
Boat fishers often catch kingfish on nearshore reefs around Rottnest and Three Mile Reef, which runs along Perth's north western coastline. However, they can also be found inshore and even off beaches or land-based fishing platforms.
Fisheries Minister Don Punch reflected in a press release: "I am sure recreational fishers cannot wait for some of the stocked kingfish to start showing up in their catch in a few years.
"Some of the kingfish released in early 2021 will already be starting to reach the minimum legal-size limit.
"I also need to recognise the work of the Aquaculture R&D team at the Marine Finfish Hatchery, who've worked closely with Recfishwest on the stocking of kingfish for metro waters and for 100,000 juvenile pink snapper released in February 2022.
"Last year, as part of the McGowan Government's recreational fishing stimulus package, we committed to three years of metro stocking programs as well as the barramundi program in the Kimberley."