The company currently has 300 tonnes of salmon in the water, divided between its facilities in Rollo Bay and Indiana. However, in its Q1 report, released this week, Sylvia Wolff said that AquaBounty was currently "taking steps to plan the next large-scale production farm, including identifying an ideal site location to maximize logistics and best serve our customers, selecting a design and construction firm, and choosing a RAS-technology provider."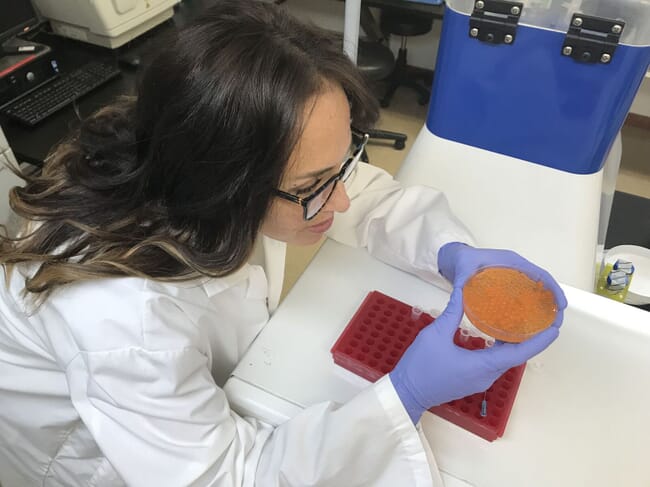 Wolff remains upbeat about the company's prospects, despite registering a net loss of $3.1 million in the quarter, compared to a loss of $2.8 million in the same period of 2019. And the company was buoyed by raising $15.5 million during the quarter.

She also expressed a belief that COVID-19 would help to strengthen the company's long-term position.
"The COVID-19 pandemic is a significant challenge for the global economy, and I am immensely proud of our employees for their outstanding performance and unwavering care for our fish. A challenge like this pandemic highlights the need for technology and supply chain alternatives like ours, which address a safe, sustainable, and secure food supply. Our operational experience and expertise have helped us navigate through this unique environment and effectively execute against our strategy," she said.
The report emphasises that harvest schedules remain on-track, with the company's first harvest of conventional Atlantic salmon scheduled to begin in June 2020, and the first harvest of the company's proprietary AquAdvantage salmon (AAS) scheduled to begin in the fourth quarter of 2020.
"AquaBounty is rapidly approaching its commercialization phase, and we are pleased to announce that our first harvest of conventional Atlantic salmon remains on track to begin in June 2020, which will provide our first revenues on a commercial scale. This also allows us to continue demonstrating our expertise in aquaculture and ensure our supply chain is in place prior to our first harvest of AquAdvantage salmon, beginning in the fourth quarter of 2020. Looking forward, we plan to increase production volumes in subsequent months. With a world-class team in place and a fortified balance sheet from our over-subscribed $15.5 million public offering, we are better positioned than ever to execute our strategic plan," continued Wulf.