An American approach to sharing science
Sea lice, co-infections, research with zebrafish and some novel diseases in esoteric species all featured at this year's Eastern Fish Health Workshop (EFHW).
The refreshingly independent event is organised by scientists once a year to get together with fellow scientists, and is not affiliated to any parent society. And its 43rd edition was held on 9-12 April 2018 in Chattanooga, Tennessee.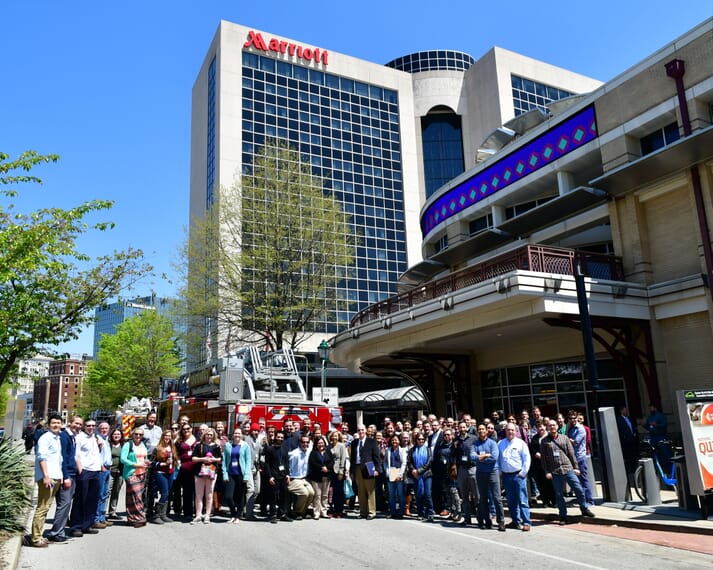 Starting with an after-dinner "Aquatic Detective" session, veterinarians and pathologists described their differential diagnostic approaches showing uncommon pathology not only from teleost fish but also from elasmobranchs, lobsters and salamander. Intriguing clinical cases included the lymphocystis with bone proliferation in white crappie (Baumgartner), a rodlet cells-rich sarcoma in white suckers (Wolf and Smith), a branchioblastoma in bluegill sunfish (Law), and a nephroblastoma in mudpuppy (Standish). The evening session was further enriched by the description of pathology due to Panulirus argus Virus 1 in Caribbean spiny lobsters (Elliott), by the first detection of Epizootic Epitheliotropic Disease Virus (EEDV) in adult lake trout (Henderson) and by the identification of the fascinating histophagous ciliated protozoa, Miamiensis avidus, implicated in the recent mortality of shark and ray species in the San Francisco Bay area (Armwood).
During the first regular session, Mitchell reported about the political debate to improve the current State and Federal regulations and management strategies for salmonid farming, stimulated by recent media attacks promoted by activist groups, who are now even publishing controversial science in peer-reviewed journals, triggered by the release event of farmed salmon in the Puget Sound during the summer of 2017. Straus introduced the use of peracetic acid as a disinfectant in American aquaculture. The zebrafish session discussed on how those fish became a model to study other fish species and represent much more cost-efficient biological models for large-scale use in biomedicine – although it was also emphasised that underestimating subtle diseases in zebrafish, such as mycobacteria, can impact experimental outputs. This was followed by a session on bacterial infections, focusing on cold water issues, co-infections and selective breeding programmes.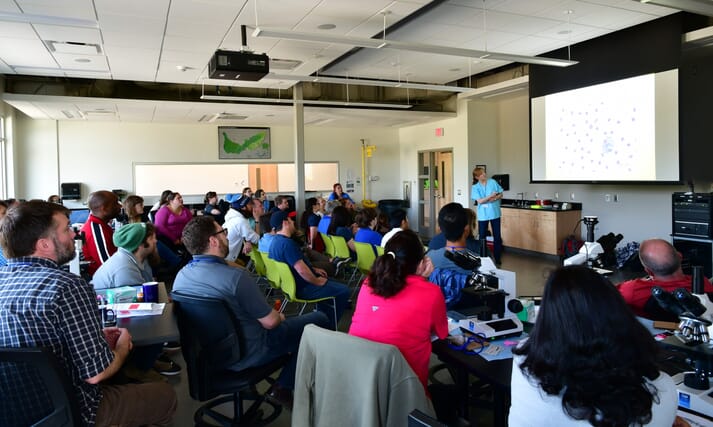 The second day had an intensive schedule, starting with a session on emerging fish viruses. New evidence was provided about the first detections of Carp Edema Virus (CEV) from wild common carps in New Jersey (Lovy) and from the highly invasive Asian carp in Minnesota and Wisconsin (Mor). The phylogenetic classification, from isolates to the complex genome structure, of CEV, Acipenserid Herpesvirus 1, Percid Herpesvirus 1, and novel Picornavirus was also presented by Walztek's group (Subramaniam; Walker; Haggard; Scherbatskoy).
This was followed by a session on mixed parasite infections, bringing new observations on Amyloodinium ocellatum infections in marine aquaculture (Dutton), on the detection of apathogenic Myxobolus cerebralis in the southeastern US (Bullard), or on Myxozoans affecting catfish aquaculture (Griffin) and mosquitofish (Stilwell).
A special session entitled "the thinker and the stinker" focused on dynamics of co-infections in fish, introducing some elegant studies carried out within the Canadian Integrated Pathogen Management of Co-Infection in Atlantic salmon Project. Several co-infection models were introduced, including the characterisation of "Red-sore disease" caused by ciliates Epistylis spp. and the bacterium Aeromonas hydrophila (Ksepka), the development of functional feeds to improve resistance against co-infections between sea lice and A. salmonicida (Caballero-Solares) or infectious salmon anaemia (Carvalho).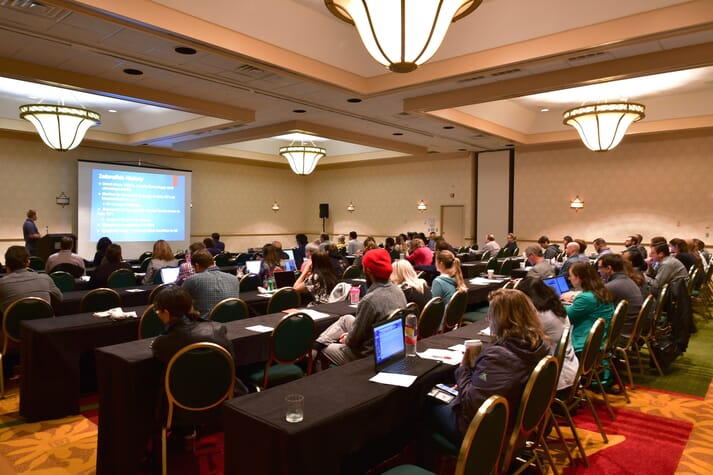 During the evening workshop participants were hosted for a dinner at the Tennessee Aquarium, which has an extraordinary variety of riverine ecosystems and species including the American paddlefish, a fascinating relict species which inhabits the Tennessee River.
On Tuesday a special session focused on sea lice, starting by reviewing step-by-step the historical fight against these parasites, from drugs to vaccination strategies used to the new biological controls and novel engineering solutions put in place to reduce the lice load in salmon farming systems (Bricknell). Other talks focused on the evaluation of infection dynamics (Frederick), studies for potential solutions against sea lice in North America, including on drug development (Tudor; Fast), genetic selection for resistance and to improve broodstock health and nutrition of cleaner fish (Pietrak).
The final session discussed the eastward spreading of Viral Haemorrhagic Septicaemia Virus (VHSV-IVb) in New York state (Getchell), the use of a novel BF-1 cell line for the detection of Bluegills Picornavirus (Erickson), the post-vaccination immunity in Arctic charr (Brown), and TLR expression in largemouth bass (Renukdas). The session was closed by the work carried out in Auburn to identify the molecular basis of attenuation after a vaccine against Columnaris disease was optimised to protect catfish (Cai).
The 43rd EFHW was followed by a dinner banquet, including the already traditional dancing night, then a wonderful sunny day along the Tennessee River, where a continuing education session on haematology and plasma chemistry techniques was held at the Tennessee Aquarium Conservation Institute (TNCI). Participants had the opportunity to collect and analyse blood not only from fish, including local bluegills and sturgeon, but also from spiny lobster and horseshoe crabs.
The event was attended by more than 100 participants from the US and Canada, including 20 very promising undergraduate and postgraduate students. The best student presentation prizes went to Liz Scherbatskoy, first place, and Amalia Harrington, second place.
To acknowledge his astonishing career in fish health, after he retired in 2012 from Cornell University, Paul Raymond Bowser was inducted as the ninth "Distinguished Friend" of the EFHW, during a ceremony presided by Emily Cornwell and Rod Getchell. The Steering Committee, including Roy Yanong, Thomas Loch, Stacey Pulver, Mark Fast, Ernest Scott Weber and Johnny Shelley, did a great job to perfectly organise this meeting despite the absence of the EFHW's historic organiser, Rocco Cipriano.