Africa threatened by Asian fish imports
Recent trends indicate that illegal imports of fertilised eggs, fingerlings and market-ready tilapia from China are presenting a serious challenge to the efforts of sub-Saharan Africa's fledgling fish farmers.
Evidence suggests that government policies to protect their borders from illegal fish imports are proving ineffective, while other governments have virtually endorsed foreign tilapia imports as a necessary evil.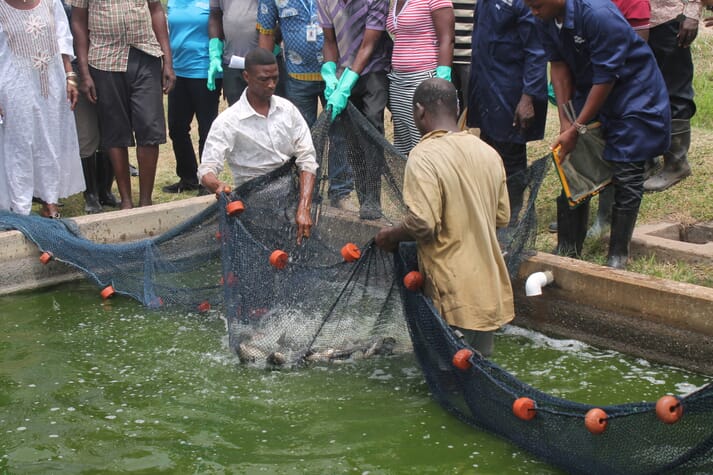 Most African countries are implementing aquaculture development strategies to reverse the trend of sharply declining marine output, high fish import bills and low fish consumption figures. Most are consuming far more fish than they produce. According to current figures Ghana consumes 1 million tonnes per annum but produces only 400,000; Nigeria produces 1.1 million tonnes out of an annual demand of 3.2 million; Kenya produces 200,000 tonnes annually but local demand is 1 million; Uganda produces 461 tonnes, leaving an annual supply gap of 300,000; Zambia produces 114,000 tonnes per year, leaving a supply gap of 87,000; Ivory Coast produces 72,000 tonnes, leaving a supply gap of between 250,000 and 300,000; Tanzania produces 336,000 tonnes out of national demand of 771,000; Zimbabwe 27,000, out of national demand of 60,000 tonnes.
In addition to the strategic plans for developing aquaculture, some significant foreign investments have been made. In Zambia, for example, the recent inauguration by President Lungu of Aller Aqua's 100,000-tonne capacity fish feed factory should provide fish farmers in that nation and its neighbours with a major boost. In Kenya, Victory Farms' radical expansion programme is certain to impact fish farming and tilapia prices in the East African region. And in Nigeria, Olam, which owns a state-of-the-art fish feed factory in Kwara, is considering venturing into fish farming in partnership with Mitsubishi Corporation.
But the efforts of foreign investors and local fish farmers are not enough to cater for the huge demand in local demand for tilapia and catfish. Most governments would like to promote the local industry and avoid the high fish import bills, but the supply gap is huge. Presently, they are clearly unable to deal with the influx of foreign ova, fingerlings and market-ready fish.
Although importing foreign tilapia and catfish is banned in Nigeria, there is a steady influx of mostly Chinese tilapia from neighbouring Benin. Nigerian customs officials often mount exercises to intercept Nigeria-bound containers under 'Operation Hawk Descend'. But fish farmers complain that the availability of large amounts of foreign tilapia at the Ijora fish market in Lagos is evidence that neither Nigeria's customs nor police force are serious about dealing with the problem. In landlocked Burkina Faso, officials of the Volta Basin Authority, which is seeking to replicate Ghana's aquaculture success (they share Lake Volta), hope to increase production beyond 4,000 tonnes per annum. Currently, imported tilapia brands flood the markets.
In Ghana, the Head of the Aquatic Animal Health Unit of Ghana's Ministry of Fisheries and Aquaculture, Dr Peter Ziddah, is alarmed that a significant quantity of foreign tilapia eggs are being smuggled into the country in oxygenated bottles. He complained that Ghanaian customs and immigration officials were failing to distinguish tilapia from other fish at the points of entry. And, even though only the Akosombo strain is allowed in Ghana, foreign strains are still sold in some markets.
As cage farm manager, Frank Appiah complains: 'We labour for seven months to put good quality tilapia on the market, but I know a couple of farmers who [use a different strain to] produce tilapia twice and sometimes three times in a year.'
As well as the unfair competition, they pose a serious health threat to the industry and several African countries have recently banned foreign tilapia imports in an attempt to stop the spread of tilapia lake virus.
Although the Nigerian aquaculture industry believes that illegal imports from across the Benin border pose the main threat, there are strong indications that foreign tilapia eggs and fingerlings are being imported and farmed on a substantial scale.
Kenyan conditions
Meanwhile, in Kenya, officials from the Marine and Fisheries Research Institute are confident that with an effective regulatory system in place, national aquaculture production, currently approaching 20,000 tonnes, will reach the targeted 200,000 tonnes in the next few years. They believe, for example, that with the inspection of fish at the borders, export and import procedures, authentication and certification and regular monitoring of the 125 operating hatcheries, unwelcome strains and species will be kept at bay.
But recently Kenyan fish farmers, artisanal fishermen and traders have been protesting against the flood of foreign tilapia and Nile perch flooding the market and driving down prices of locally produced fish. While local tilapia sells at 400 shillings ($4) per kilo, Chinese tilapia sells at between 150 and 200 shillings.
Far from sympathising with them, Mwangi Kiunjuri, Kenya's Agriculture Cabinet Secretary, defended the imports, stating that local producers are simply unable to cope with demand.
"There's a gap in supply which the Chinese fish imports are filling. Our fish production cannot meet the high demand," he argued.
However, African experts are concerned that the flood of imports from China and other Asian countries poses a clear danger to African food security, employment and its young but promising aquaculture industry. They note that increasing numbers of African youth and women are being drawn into aquaculture, which could offer a viable solution to the continent's unemployment problem. Crucially, they also state that Africa spends a substantial amount of foreign exchange, which it can hardly afford, to import fish which it is capable of producing itself.