As part of a national effort to improve the science and management of the country's jumbo flying squid fishery, the Peruvian fisheries research institute (IMARPE) hosted Patrick Cordue, an internationally recognised stock assessment scientist from New Zealand, throughout June.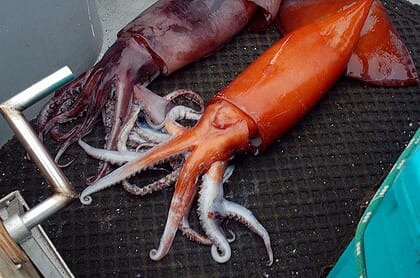 The move was praised by the Sustainable Fisheries Partnership (SFP), which supported the initiative as part of its efforts to engage international supply chains in improving the sustainability of global squid stocks. During his time in Peru Dr Cordue worked with IMARPE in the development of new stock assessment models and management tools for the species, which are also known as Humboldt squid.
"Jumbo flying squid sustains the second-largest national fishery in volume, and is entirely exploited by artisanal fishermen in Peru, with a high social impact. The life cycle of this species shows some space-time complexities related to the variability of the Peruvian sea, which are some of the several challenges for the assessment of this stock," said Renato Guevara-Carrasco, Director of IMARPE.
Jumbo flying squid is the most important single squid species in the global market. Improving how the stock status of this South Pacific squid is evaluated will have a significant impact on approximately 30 percent of the global volume of squid caught. This will require the adoption of coordinated approaches at the regional level.
"There is a significant push from global markets to improve this fishery—squid is mainly an export commodity, and buyers need to ensure a continuous supply," said SFP's Enrique Alonso. "To achieve sustainability, national and regional efforts from research and management authorities of exporting countries are key, when they are coupled with the support of the private sector."