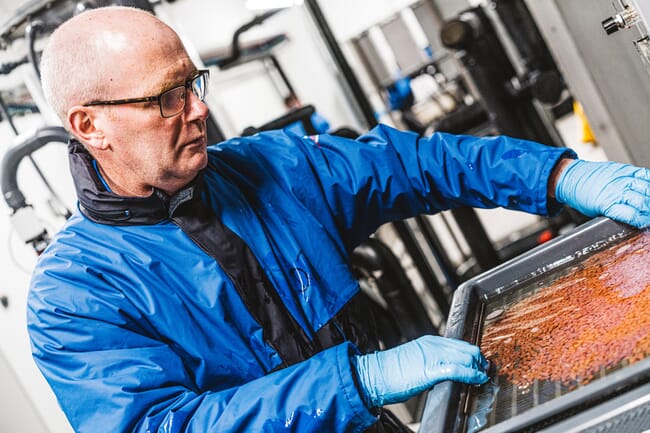 Flo-Gro Systems Ltd has received £5 million to help build a new aquaculture facility in Lincolnshire to annually produce at least 2,500 tonnes of fresh vannamei shrimp for the UK market. The facility will include a hatchery, and processing and packing equipment. The project will deliver pioneering technology, sustainable energy generation and innovative farm practice and will:

Mowi Scotland has also been awarded £5 million towards a planned RAS facility for producing broodstock and ova at Ardessie, in Wester Ross.
The grant will go towards the construction of new buildings and equipment such as chillers, tanks, filters and an ice machine. When complete, the new facility is expected to produce 25 to 30 million eyed ova annually and mean that the company would no longer be reliant on importing ova from its operations in Ireland, as well as be in a position to develop a strain of salmon selected to thrive in Scottish conditions.
Scottish Sea Farms has also been awarded £5 million, to help it build a post-smolt unit at its RAS hatchery at Barcaldine, Oban. The unit will have the capability to receive 6 million salmon smolts a year from the existing smolt facility and on-grow them for three additional months before they are transferred to sea cages, in order to reduce their exposure to biological threats such as sea lice.
Meanwhile Defra has awarded £1.1 million to For the Love of the Sea (Câr-Y-Môr), a community benefit society based in Pembrokeshire, west Wales. The project will expand seaweed production facilities by developing a seaweed processing unit with storage, equipment, shop and an educational hub.
Finally, Defra has awarded over £230,000 to Inverlussa Shellfish Co to improve growing and storage facilities at their mussel farm on the Isle of Mull.  
The project includes a wind turbine, the construction of onshore facilities and expansion of the existing grow-out sites. It is expected to increase harvest output of mussels by approximately 10 percent and reduce the company's reliance on mains electricity.