Trout Market Report - August 2007
By Nicky Holmyard, FAO Globefish. Peruvian trout producers are set to benefit from a new FAO-funded project that will introduce a management and policy alignment tool to help rationalise and develop the entire aquaculture sector.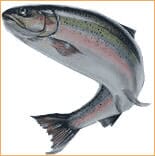 The country produced 6883 tonnes of freshwater fish in 2006, of which trout accounted for 6163 tonnes. It is hoped that the new project will see the country become a major producer of both freshwater and coastal aquaculture species.

Japan's imports of Chilean trout from September 2006 to April 2007 were around 60000 tonnes, with fillets and other products making up 25000 tonnes of this total. Since then, trade has slowed down and prices for 4/6 lb fish have dipped from a high in May of Y580 to Y 540/kg.

There is also concern that Japanese demand for Chilean trout could be affected over the coming year by an increased supply of fresh, domestically farmed coho, whereas Chile's exports to Japan are entirely frozen. A further factor is that seafood consumption in the country is showing a declining trend, particularly among young Japanese.

The overall average unit value of Chilean trout exports to the beginning of this year was US$5.2/kg, up 9.5% on the 2005 average of US$4.7/kg. Whole fish increased by 12.1% to US$3.6/kg, headed and gutted went up 6.4% to US$4.0/kg and the value of fillets jumped 16.6% to US$7.1/kg.
Norway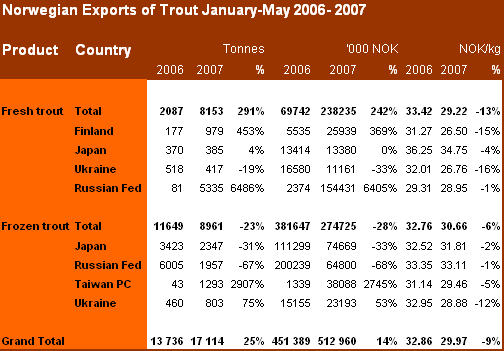 Total exports of trout from Norway rose by 25% in the first five Months of 2007 compared with the same period in 2006. Exports to the EU doubled despite an antidumping duty of nearly 20%, which is in place for 5 years from 2004. It appears that EU producers are unable to meet consumer demand and need to step up production to do so.

While volumes increased from 13736 to 17114 tonnes, the overall unit value dropped by -9% from NOK32.86/kg to NOK 29.97/kg. This resulted in an export market worth NOK 513 million, up 14% on the 2006 value of NOK 451 million.

The focus of trout exports shifted significantly, with fresh and frozen exports for 2007 being nearly equal at between 8,000 - 9,000 tonnes compared with the situation in 2006. Then, fresh sector exports of 2087 tonnes made up just 15% of the 13736 total and frozen trout exports amounted to 11649 tonnes. The bulk of these changes was the result of Russian Federation buyers showing a preference for fresh product, increasing their purchases significantly from a negligible 81 tonnes in 2006 to 5335 tonnes in 2007. During the same period, Russian Federation purchases of frozen trout fell by -68% from 6005 tonnes down to 1957 tonnes.

Exports of frozen trout to Japan also fell sharply by -31%, down from 3423 tonnes to 2347 tonnes. Taiwan and Ukraine however, increased their purchases of frozen Norwegian trout from 43 to 1293 tonnes and from 460 to 803 tonnes respectively. These rises in volume were accompanied by a decrease in the unit values, which were down -5% from NOK 31.14/kg to NOK 29.46/kg for Taiwan and down -12% from NOK 32.95/kg to NOK 28.88/kg for Ukraine.

In the fresh sector, exports to Finland increased by 453% to 979 tonnes, on the back of a drop in unit value of -15% from €NOK31.27/kg to NOK 26.50/kg. This is due to increased demand in the country, which domestic producers are failing to keep up with.

While the unit value fell in both the fresh and frozen sectors, a larger fall in fresh fish prices saw them drop below the unit value of frozen fish. The average unit value for fresh fish in 2007 was NOK 29/22/kg compared with the 2006 value of NOK 33.42/kg, which was a fall of -13%. Frozen unit values fell by -6% from NOK 32.76/kg in 2006 to NOK 30.66/kg in 2007.
Germany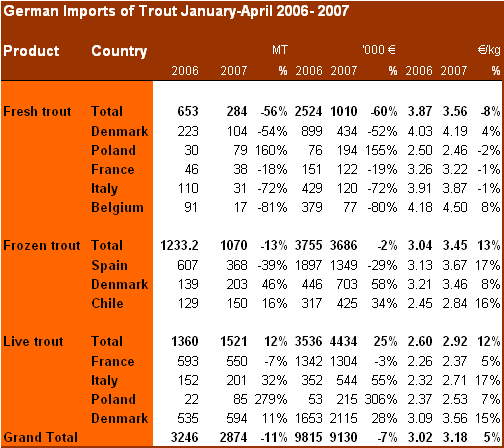 Germany imported a total of 2874 tonnes of trout worth €9.13 million in the first four months of 2007, which is a drop of -11% on the 2006 volume of 3246 and a -7% fall in value.

Within this overall picture there was a -56% drop in fresh imports from 653 tonnes to 284 tonnes and a -13% fall in frozen imports from 1233 tonnes to 1070 tonnes. This was only partly compensated for by a rise of 12% in the import of live trout, up from 1360 tonnes to 1521 tonnes.

Denmark retained its position as the major supplier of fresh trout to Germany, but sales fell -54% from 223 tonnes to 104 tonnes. France, Italy and Belgium also lost sales, while Poland increased its supplies by 160% from 30 tonnes to 79 tonnes. It is notable that Polish unit values at €2.46/kg were significantly lower than the average of €3.56/kg, while Danish, Italian and Belgian supplies were priced well above the average at €4.19/kg, €3.87/kg and €4.50/kg respectively.

Overall fresh values fell by -8%, and coupled with the reduction in volume, the value of fresh imports fell by -60% from €2.5 million to just over €1 million.

The situation was different in the frozen sector, with a fall of -13% in volume being matched by an average rise in unit value of 13% from €3.04/kg to €3.45/kg.

Spain remained the major supplier of frozen trout, but Spanish exports dropped -39% from 607 tonnes to 368 tonnes and lost ground to Denmark and Chile whose supplies grew by 46% and 16% respectively. The unit value of trout from Chile at €2.84/kg, was €0.83 lower than that imported from Spain.

The total cost of frozen imports in 2007 was €3.69 million, a slight fall of -2% from €3.8 million in 2006.

Live fish for restocking make up the major portion of German trout imports and this situation strengthened in 2007 with an increase of 12% in volume, from 1360 tonnes to 1521 tonnes, and a 12% rise in average unit values, up from €2.60/kg to €2.92/kg.

France lost its position as the premier supplier of live trout, with a slight drop of -7% from 593 tonnes to 550 tonnes. The top position was taken over by Denmark, with an 11% rise from 535 tonnes to 594 tonnes. Italy and Poland also increased their share of this sector, with a rise of 32% from 152 tonnes to 201 tonnes for Italy and a 279% rise from 22 tonnes to 85 tonnes for Poland.
France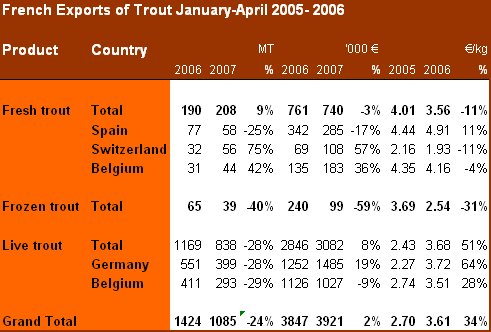 The majority of French trout exports are of live fish into Germany and Belgium. Sales of these fell by -28% during the first quarter of 2007, from 1169 to 838 tonnes. This was partly compensated for by a 51% rise in the unit value from €2.43/kg to €3.68/kg and a 9% rise in sales of fresh trout from 190 tonnes to 208 tonnes.

The result was a 2% rise in the total value of exports from €3.85 million to €3.9 million. However, overall volumes fell -24% from 1424 tonnes to 1085 tonnes.

While the average unit value of fresh sales fell -11% from €4.01/kg to €3.56/kg, there was a marked variation in the value paid by traders. Spanish buyers paid €4.91/kg, which was an 11% increase on the value the previous year, while Swiss buyers paid an average of €1.93/kg, 11% less than the year before.

Frozen trout make up a small part of the export picture for France, at around 4% of the total. This share fell further in 2007 with a 40% drop in volume from 65-39 tonnes and a 31% drop in unit value from €3.69/kg to €2.54/kg.
August 2007