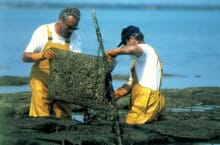 This summer, across the length and breadth of the French coast, producers and hatcheries have lost between 80-100% of their year-old juveniles. The crisis has been attributed to a common virus, similar to herpes, which has not been fatal for oysters until now.

From Normandy southwards through Britanny and on past Marennes to the Arcachon basine near Bordeaux, the western coast of France lost its yearling oysters during June and July, before producers on the Mediterranean coast were affected. The search is on to find the additional factor that turned an ordinary bug into an oyster killer.

It takes three to four years for an oyster to grow to a marketable size. Within 18 months the generation gap in the oyster population will be a very expensive one to bridge.

"By the end of 2009 oysters will be priced like caviare," warns François Patsouris, president of the regional shellfish producer's organisation Conchyliculture Poitou-Charentes. But the price of a missing generation of oysters takes many forms.

The industry employs some 10,000 people directly and there are a further 20,000 indirect jobs that depend on the primary producers. In a normal year, Marennes would market up to 60,000 tonnes of its own oysters and a further 10,000 tonnes from the Ile de Re to the north, level with La Rochelle.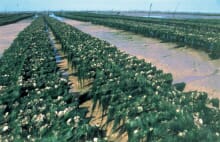 On the home market alone, French consumers bought over 35,000 tonnes of oysters, valued at 202 million euros, according to national seafood agency Ofimer, using TNS panel data. While France might import 80% of its fish and seafood needs, it is Europe's largest oyster producer and exporter, selling just over 100,000 tonnes abroad every year.

Indefatigable French fisheries minister Michel Barnier visited Marennes on July 24 and set up a monitoring committee, which reported back to him at the end of August. Acting on its recommendations, the minister put in place contribution holidays for the hardest hit firms unable to pay certain social charges, as well as preferential interest rates for crisis loans, notably to help firms trying to restock, while he indemnified the hardest hit for 20% instead of 12% for their losses.

Looking further ahead the oyster producers, national marine research agency IFREMER and the French fish farming executive will be co-operating with an environmental engineer to oversee a restocking programme. Water quality is top of the list for all concerned.

"We are the last users of the fresh water that arrives in our rivers," explains Patsouris, adding: "Farmers upstream use so much water for irrigation that we simply don't get enough."

The result can be high salinity levels, as occurred during drought years: "During the drought of 2003, we were seeing the equivalent of 35 grams of salt to a litre of water in the finishing ponds," observes Patsouris.

Season also plays a role in an oyster's optimal salinity levels. Ifremer's initial theory was that a warm winter coupled with a wet spring had the effect of reducing salinity in the early summer, stressing the oysters to the point of making them vulnerable to things that they would normally take in their stride.

"Oysters are the sentinels of water quality," Patsouris warns. Doing the job of a caged canary in a coal mine or the rose bushes planted at the ends of the rows in vineyards, an oyster's natural fragility is an early warning sign that no-one can afford to ignore.
October 2008