Separating the good fish fillet from the bad is generally done by hand based on observations when the fish is being processed.

But a machine can soon be introduced into the production of cod fillets to distinguish between qualities. Scientists at Nofima Marine have discovered that light can be utilised to separate fillet with faults from faultless fillets.

Light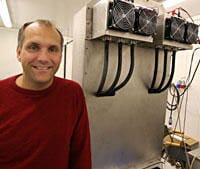 Karsten Heia from Nofima.
"What we are doing is to illuminate the fish with white light and then use a spectrometer," says Scientist Karsten Heia.

"In other words, we measure the light coming from the fish, also at wavelengths the eye can't see."

Parasitic nematodes, traces of skin remnants, black lining and blood influence the light differently and these differences are registered by the spectrometer. This information is then conveyed to a computer that controls the sorting of the fish fillets.

Why spectroscopics?
This technology fulfils the industry's requirement for speed. The technology does not affect the fillet and is suitable for detecting quality faults.

"It's important that the fish is untouched by human hands as it were," says Heia.

"Earlier this year, the research team tested the machine at a fish processing plant in Vesterålen. We needed to find out whether the machine functioned in ordinary production and not just in the lab."

"The process needs to go so rapidly that the fish can follow the tempo on a normal production line," says Heia. "Much of the challenge with inventing this has really been to get the machine to work at this speed."
Requirement
With hi-tech use of light, it becomes possible to find parasitic nematodes in fish fillets. Karsten Heia at Nofima in Tromsø has put a lot of work into this new invention.
The Norwegian fillet industry has struggled in recent years to earn money and the competition from overseas is increasing.

"It is precisely here than the new machine can assist the industry in Norway," says Heia.

"I don't think job losses will result from the industry utilising such a method, but it can be an opportunity to get a far improved sorting of fish and as such improve the quality of the product you and I buy at the fish shop."

German company Baader was part of the team that developed this new knowledge. Baader is a world leader in machines for the fishing industry.

The project is funded by the Research Council of Norway, the Fisheries and Aquaculture Industry Research Fund and Baader.
June 2008