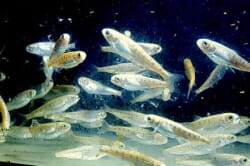 Photo: NOAA
In the once-pristine waters of the Magellanese straits another outbreak of Infectious Salmon Anemia (ISA) has been confirmed. Locals hoped that this day would never come, but more than 100 Chilean fish farms have now been affected by this virus since the first outbreak in 2007. As the disease takes hold of one area the industry flees to another and often, the disease goes along too.

The situation is fast growing out of control. ISA is a contagious viral disease that kills up to two per cent of all Chilean farmed salmon. It is so contagious that often the whole farm population must be eradicated.

This poses a big problem for Chile. Chilean salmon exports are currently one of the country's most dynamic businesses, boasting over 800 salmon farms. With an annual turnover of more than $ 2 billion it is second only to Norway. Together, the two countries produce approximately 80 per cent of the world's farmed salmon.

The antagonist of this tragedy is an enveloped virus just 100-130 nm in diameter. Mortality rates of salmon infected are highly variable, ranging from 2-50 per cent over one production cycle, but potentially affecting an entire farm in a matter of months.

Based on biochemical, physical, chemical, and structural characterization, ISA virus is very similar to members of the "flu" family. According to the United States Department of Agriculture, "some basic flu virus family principles can be applied when trying to understand the ISA virus." The first general characteristic is that the ISA virus can mutate and evolve. The second is that the virus can change rapidly by recombination of ISA virus genetic elements.

But the true danger comes to light when we also come to understand that ISA can be transmitted between and through wild and farmed fish populations and geographic areas from direct contact between infected and uninfected fish.
A History of Outbreaks
The illness was first discovered in 1984 on fish farms in Norway. By 1996 it was detected in Canada, where it devastated New Brunswick's then-budding farmed salmon industry. Scotland, another important salmon producing country, was then hit by an epidemic which caused damage totalling $32 million between the years 1998 and 1999.

It seems that once this virus enters a farmed salmon it is very difficult to get rid of.

The World Organisation for Animal Health say that vaccination against ISA has been carried out in North America during the past five years, but the currently available vaccines do not seem to offer complete protection.

The use of antibiotics is another inaffective solution and is sadly one of many other factors that could lead the industry onto deeper, longer lasting troubles.

Poor sanitisation, unnatural growth conditions, and environmental pollution may lie at the heart of this problem - Ecoceanos and other groups claim that Chilean fish farmers use as much as 300 times more antibiotics than their Norwegian counterparts - consequently issues of food safety have drawn the scrutinising glare of food safety organisations.

If the problem continues it will only be a matter of time until the industry reels from the wrath of a consumer backlash. Already, supermarket chain Safeway's reduced Chilean salmon purchases after a New York Times article criticised Chilean salmon sanitary conditions.

Further woes were uncovered by the Patagonia Times (11/10/08). The newspaper reported that Germany's Federal Office for Consumer Protection and Food Safety tested 42 samples of Chilean-raised farmed salmon and found that two of those samples had traces of crystal violet, an anti-fungal chemical believed to have potentially carcinogenic properties. for obvious reasons Crystal violet is not allowed in food exported to the European Union. This is not the first time Chilean salmon has failed foreign inspections.

Complicating matters further are predictions by SalmonChile that production could drop by as much as 20 percent in 2009 – possibly to as low as 275,000 tonnes (13/10/08), a far cry from its heights in 2007 - when it was estimated to have produced just shy of 400,000 tonnes of salmon and reported export earnings of US$2.247 billion. Unfortunately, it seems unlikely that the situation will be improved.

Recently labor leaders took to the streets of Puerto Montt (Region X) to protest an ongoing wave of salmon industry layoffs. So far, according to event organizers, more than 4,000 have lost their jobs as the industry slows down.

Members have complained that there aren't other jobs available in the region, because everything is linked one way or another to the salmon industry. If the salmon industry falls, the whole region may fall.
Glimpsing the Solution
All these problems boil down to crowded underwater pens and poor sanitation controls said Felipe C Cabello, a professor in the Department of Microbiology and Immunology at New York Medical College in Valhalla. According to him, parasitic infections, viral infections, fungal infections are all disseminated when the fish are stressed and the centers are too close together.

The World Organisation for Animal Health (OIE) says: "The incidence of ISA may be greatly reduced by implementation of legislatory measures or husbandry practices regarding the movement of fish, mandatory health control, transport and slaughterhouse regulations."

Norway managed to turn the problem around by spreading salmon farms farther apart, reducing stress on the fish, and responded to criticism of high antibiotic use with stronger regulations and the development of vaccines.

If ISA is an antagonist of this story, it is not the only one. Critics say that incompetent regulation coupled with poor political management have added to the problem. In response to these calls the government has said that it is aware of the problem and is doing everything possible to improve the situation.

This past April it convened a special emergency Salmon Task Force to address the ISA crisis. The Task Force is also calling for a major budget increase for Chile's National Fishing Service. The government has reportedly given the companies $250 million in aid, said labor leaders, but as usual in these situations it is the poorest that end up paying the biggest price.
October 2008