Now in the spotlight in aquaculture in Brazil, the tilapia has demonstrated its contribution in the production of proteins of high nutritional value to meets the food demand in many countries. The main species used for industrial farming is the Nile tilapia, Oreochromis niloticus. The fish has the correct features for its farming in net cages, mainly installed in large hydroelectric reservoirs, where conditions are favourable for growth.
In cage culture, stocking densities vary from 30 to150 kg/m3 at the end of each cycle. In these systems, the feed formulations in use are effective to provide fast fish growth and excellent performance in a short period of time until harvest, which results in an average of two cycles/year, depending on the climatic conditions of each region.
Infectious diseases are the major causes of mortality and economic losses in the global tilapia culture industry. Numerous etiologic agents may be associated with morbidity conditions in this species, and often there is the mixed infection by different groups of pathogens, which in turn, worsen the evolution of mortality outbreaks (Figure 1) and accelerate economic losses.
Furthermore, some pathogens pose serious risks to humans, being characterised as zoonotic pathogens. Their transmission to humans can occur primarily by direct contact during handling of infected animals or the consumption of meat without the proper cooking. It is worth noting that the risks of transmission of zoonotic diseases exist in the production of any animal species and is not restricted to the farming of aquatic organisms.
Dynamics of Pathogens in Tilapia Culture
Currently, parasitic and bacterial diseases are the major causes of losses in Brazilian tilapia culture. The tilapia can host several groups of parasites. Groups of gills, skin and fins ectoparasites are the most common in the field diagnosis. However, endoparasite infections are also diagnosed, although less frequently and they pose less risk to fish farming in net cages. On the other hand, endoparasite worms can be commonly found in fish farmed in earthen ponds, especially in broodstock.
Many parasites (such as Paratrichodina africana and monogenetic worms, figure 2) commonly diagnosed in cases of outbreaks in tilapia during the final fattening phase can also be harboured in asymptomatic fry and juveniles. Under these circumstances, the control of parasitic diseases in nursery farms is key to achieving greater sanitary control in the farming process. This is because health interventions in fish distributed in hundreds of net cages are more difficult, operationally limited, and of low efficiency and high cost. On the other hand, health interventions in nursery farms are of low-cost, operationally feasible and, depending on the adopted protocol, are highly effective in the control or suppression of parasitic diseases.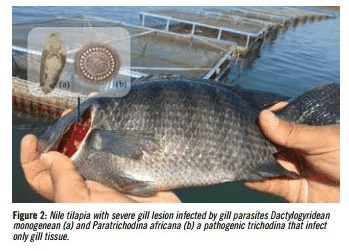 Bacterial diseases are the main final causes (causa mortis) of mortality in tilapia culture, often acting as secondary or opportunistic agents with mixed infection by parasites. Some bacterial diseases have a seasonal pattern with increasing cases in some periods of the year, while others may occur throughout the whole cycle and are not necessarily related to climatic factors such as columnaris disease.
The francisellosis, also known as visceral granulomatosis, and the streptococcosis, also known as infectious meningoencephalitis, are examples of seasonal diseases (Figure 3), primarily related to water temperature. Francisella noatunensis infection causes outbreaks particularly in periods with water temperature below 24°C, while the streptococcosis occur in outbreaks during the period in which the water temperature is above 26°C.

In addition to seasonality and water temperature, environmental health factors are strongly related to the incidence of diseases in tilapia. In this context, environmental health units seek to characterise all abiotic and biotic factors related to the welfare of the organisms in a given region. On the other hand, situations of high stocking densities, with high feeding rates and without efficient sanitary control are conditions that result in high risks to production. The deterioration of water quality favours the proliferation of pathogens. Therefore, for an efficient production system, with less pressure from pathogens, stocking fry and juveniles free of parasites is not enough, and this action should be complemented by a series of precautions during the production cycle in order to provide better welfare and health to farmed animals.
Health Situation of Tilapia Culture in Brazil
With the increase in tilapia production in several Brazilian states, especially in net cages (Figure 4), there has been a concomitant increase of losses related to diseases over the farming cycle. However, few producing farms are structurally and technically prepared to meet the sanitary challenges inherent in tilapia farming. Thus, Brazilian tilapia culture has become an activity which is vulnerable to the occurrence of high pathogenic diseases with rapid dissemination. In turn, this can cause irreparable losses to the emerging industry which is also fast expanding.
Few tilapia farms adopt sanitary monitoring procedures in their routine and many other farms are lagging in performing these health care services. The lack of specialised veterinary service delivery in aquatic health is also an important limiting factor.
Thus, fish farms do not adopt proper health management, since any form of intervention that aims to control and to eradicate diseases should be based on the diagnosis of the hygienic and health conditions of the farming. So, if they do not know the agents that cause diseases, they cannot direct the actions to achieve control and eradication of these diseases. However, changes are slowly emerging, based on unfavourable sanitary experiences in some farms.
To achieve a sanitary production, which is zootechnically efficient and environmentally sustainable, the professionalism of disease diagnosis or management becomes essential. Numerous farms, when purchasing animals for fattening, estimate future losses of around 10-20% in each cycle. As a measure of logical intervention, farmers stock a larger number of animals to make up for the estimated loss, instead of looking into the cause of the health problem.
However, this increase in stocking density may lead to greater stress in the fish hence resulting in disease problems. Therefore, a change in management protocols in the Brazilian production sector is necessary.
Higher Level of Professionalism in Tilapia Culture
Although huge investments are poured into the Brazilian tilapia culture industry with regards to production technology and automation, there is still a general lack of professional health management.
On the other hand, changes in management protocols when facing sanitary challenges are most needed, as well as the implementation of the meticulous monitoring and diagnosis of animal diseases during the production cycle. In contrast, professional farms are not routinely surprised by outbreaks because these units apply control strategies based on a risk analysis of production. An efficient and professionalism in production has control over the pathogens that afflict the animals, and it also adopts sanitary barriers against the spread of these agents.

The development of control and disease eradication programs is the basis for achieving stability in production with greater production efficiency and lower environmental deterioration. For this, it is necessary that the Brazilian tilapia culture include a health surveillance program in the expansion plan of each business, with continuous diagnosis of pathogens, adoption of biosecurity measures and immunoprophylaxis by vaccination.
Only through these tools the farms producing tilapia will be prepared for the health challenges inherent to this animal farming activity, resulting in production sustainability.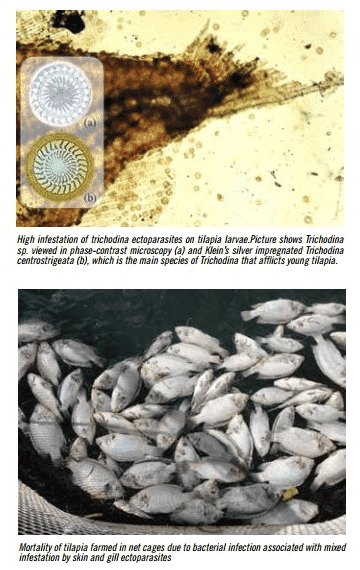 October 2014