The study, published in the latest issue of Science, illuminates the extent of global fishing – down to single vessel movements and hourly activity – and opens an unprecedented gateway for sustainable ocean management.
Conducted by a team of researchers from Global Fishing Watch, the National Geographic Society's Pristine Seas project, University of California Santa Barbara, Dalhousie University, SkyTruth, Google, and Stanford University, used satellite tracking, algorithms and common ship tracking technology to capture the activity of more than 70,000 vessels, including more than 75 percent of industrial fishing vessels larger than 36 metres.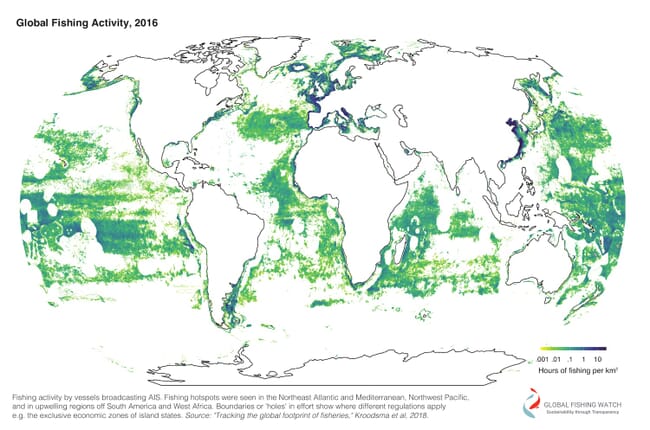 Key findings
When and where fishing occurs is tied more to politics and culture than to natural cycles such as climate variation and fish migration.
Activity in some regions is clearly bounded by different management regimes, indicating the role well-enforced policy can play in curbing over-exploitation.
China, Spain, Taiwan, Japan and South Korea accounted for 85 percent of observed fishing on the high seas.
Over 37 million hours of fishing were observed in 2016 and fishing vessels traveled more than 460 million kilometers, a distance to the moon and back 600 times.
The new dataset is hundreds of times higher in resolution than previous global surveys. The study authors say the dataset will provide governments with greater ability to monitor fishing activity and implement evidence-based policy to curb overfishing.
Method
The team used machine learning technology to analyze 22 billion messages publicly broadcast from vessels' automatic identification system (AIS) positions from 2012 through 2016. Based solely on vessel movement patterns, the Global Fishing Watch algorithm was able to identify more than 70,000 commercial fishing vessels, the sizes of and engine powers of these vessels, what type of fishing they engaged in, and where and when they fished down to the hour and kilometre.
The authors of the study are making their dataset freely available to the public, allowing anyone to download, visualise and analyse the global footprint of fishing.