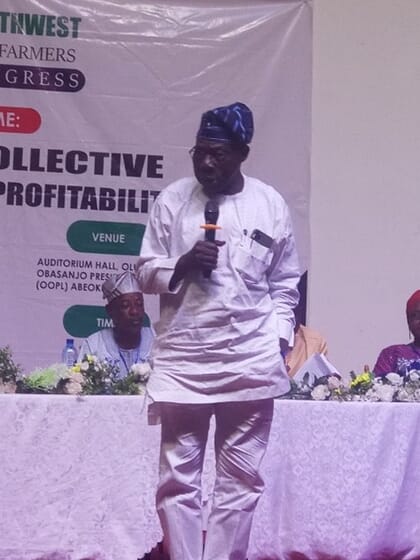 Obasanjo, who is Nigeria's most prominent aquaculture operator, hosted the congress of the Southwest Fish Farmers Association on 3 August, flagging up the major challenges facing the sector – namely pricing, high fish feed and transport costs.

"Having now closed our ranks, let us work together and solve the critical problems which threaten our survival. I am facing problems on my own farm, and I'm already sweating," he said.
Obasanjo complained about the control middlemen wield over fish prices, combined with high production costs, which make it impossible to produce a kilo of catfish for below 1,400 naira. And he warned that if the situation was not addressed urgently, "fish production will be out of reach and then, people will be producing fish outside Nigeria and be dumping it here. And you will go jobless, poor and indigent".
He also said that "farmers can no longer be producing at the mercy of the buyers who will come around to buy the fish for whatever amount that suit them without taking into account the effect of the current economic effect on the production of such fishes".
He also blamed government for the high prices of diesel, stating: "With the current price of diesel at 800 (naira) per litre, production of a kilogramme of fish is N1,400. In order to make very marginal profit, the farmers can't sell less than N1,500 as anything short of that amounts to outright loss".
After some deliberation, it was agreed that farmers sell a kilo of catfish at a starting price of 1,500 naira. The leaders pledged to ensure that this price was applied nationwide. Negotiations would be held with middlemen and market leaders to ensure that they pay fair prices. The delegates also agreed to work together with local experts to deploy alternative feed ingredients.
Quite a number of feed ingredients have been identified as viable substitutes for maize and soya meals, the main ingredients used in African feed production. Due to the increasing prices of fish feed, many small fish farmers are using ingredients like palm kernel cake, duckweed and blood meal.
Seafood shortfalls
Dr Ime Umoh, Director of the Department of Fisheries and Aquaculture, recently said that Nigeria's current annual fish production was 1.2 million tonnes, whilst demand has risen to 3.6 million tonnes. He expressed confidence that the aquaculture industry was capable of bridging the gap substantially. However, the national president of the Tilapia and Aquaculture Developers Association of Nigeria (TADAN), Remi Ahmed, said that "local production cannot even get close because of the high cost of feed. Many farmers are getting out of business because they can no longer cope'.
Steve Okeleji, CEO of the Aquatic Hub Afrique and organiser of the Abeokuta conference, said that "we have to come together to wrestle our industry from a critical situation. It is now obvious to us that if we do not do something fast, the aquatic industry in Nigeria will be submerged. My farm expenses are too high."