FAWC Report On Farm Welfare - By the Farm Animal Welfare Council - This article is part eight of a report on labelling in relation to the welfare provenance of livestock products. This Report concentrates on the purpose and nature of labelling and its justification, whether such labelling should be voluntary or mandatory, and how best to convey relevant information.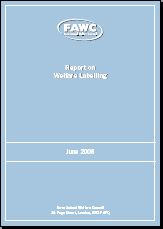 RECENT DEVELOPMENTS ON LABELLING WITHIN THE EUROPEAN UNION
The sustainable trade action plan (STAP) adopted by the European Commission in 2004 aims to promote sustainable and fair trade and to increase consumer knowledge of and confidence in products labelled as being sustainable trade, fair trade or ethical trade. In its new consumer policy strategy, the Commission has indicated that it will examine existing private labelling schemes such as organic labelling, fair-trade and corporate social responsibility measures to assess their effectiveness and the need for further measures in achieving the objectives of transparency and information for consumers.



The Commission has also stated that:

Social labelling schemes should be objective, transparent and nondiscriminatory

Procedures to obtain labels should be fair, proportional and not unnecessarily resource demanding so as to not to exclude producers in developing countries

The EU and member states should help developing countries to make use of social labelling schemes.





The EU Action Plan on the protection and welfare of animals, adopted by the European Commission in January 2006, aims to clarify existing EU legislation on animal welfare and provide proposals for areas where action is currently lacking. Amongst other things the Action Plan envisages the following:

Current minimum welfare standards are upgraded across the EU in line with the latest scientific information and public demand.

A classification system is introduced to differentiate between minimum welfare standards and higher standards so that production systems with higher standards get due recognition.

The option of an EU label for animal welfare is put forward, to promote products obtained in line with certain welfare standards.

An EU label for animal welfare would allow for the better promotion of products which have been produced in line with animal welfare requirements, and a differentiation between those obtained with basic mandatory animal welfare standards and those with higher standards. It would also compensate to some extent for the competitive pressures faced by EU producers in the increasingly globalised agricultural market, where animal welfare obligations are extremely divergent.

A clear label identifying the level of welfare applied could prove an effective marketing tool, and improve the information available to consumers in the EU and internationally when making purchase choices. The recently published 2005 Eurobarometer survey showed that 74% of consumers believe they can improve animal welfare through their shopping choices, and over half of all consumers surveyed stated that they would be willing to pay more for animal welfarefriendly food products. However, the poll also revealed that consumers found such products difficult to identify. An EU animal welfare label would help to address this problem.

The possible establishment of a European Centre for the protection and welfare of animals which could be involved in the setting of new animal welfare indicators and an EU label for animal welfare.

International initiatives to raise awareness of animal welfare continue to be initiated and supported whilst pressing for greater acceptance of animal welfare policies at WTO level.
Source: Farm Animal Welfare Council - June 2006
Crown copyright 2006