With the start of offshore oil and gas production on Ghana's western coast - in 2010 and 2015 respectively - the issue of fair compensation of nearby communities generated lively discussion. Both government and the oil and gas companies committed themselves to ensuring the protection of the surrounding ecosystems and the transfer of skills and business opportunities to local people. Traditional chiefs and opinion leaders in communities close to the production fields have actively kept this issue alive. Fishermen along the six coastal districts of the Western Region have also been complaining about the harmful effects of oil drilling and gas production on their work. Among their many complaints are the constant traffic of hundreds of oil workers, which makes it difficult to even go out to fish, and the imposition of a 'restricted zone' within a 500-metre radius of each oil rig.

Established with the support of the UK's Department for International Development (DFID) in 2013, the Western Region Coastal Foundation (WRCF) has been working with government agencies, oil and gas companies and local communities to provide technical skills to local communities, mitigating climate risk issues arising from oil and gas production, and ensuring peaceful, continuous cooperation among stakeholders. Funding for WRCF's programmes is included in the projects for which Ghana and the British High Commission signed a £27 million partnership agreement in 2013.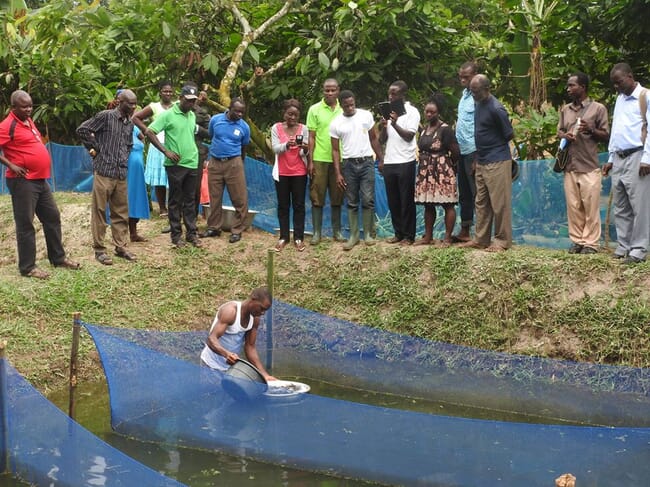 As part of its programme, the foundation has given aquaculture in the region a badly needed thrust. Although quite a number of people had been farming catfish for some time, most of them had stopped because of numerous problems. With the assistance of the Fisheries Commission and Water Resources Research Institute, the foundation has brought together four fish farming associations in the Ellembele and Jomoro Districts in a training programme which combined classroom learning with practical work in demonstration ponds. Participants in the workshops have gone back into production, thrilled that most of the issues that forced them out of business were covered.
The Western Region has for many decades accounted for more than a third of Ghana's capture fish output. With the decline of fish catches in recent years, fishermen's incomes and livelihoods have been affected. Quite a number of fishermen have expressed interest in entering aquaculture. WRCF's current efforts are focused on catfish because it is a local delicacy, but it is expected that with the substantial increase in local migration and tourism, tilapia culture will thrive, as it is doing in other parts of the country. WCRF's Training Manual for catfish production and its other publications provide a valuable resource tool for investment in the Western Region.
Gender agenda
WRCF has also sought to address gender bias. Aquaculture in Ghana has been a predominantly male occupation, but WRCF has included the Daasgift Foundation, which has been training women in fish processing and marketing, in its programmes. Apart from promoting gender parity in the industry, this arrangement is expected to reduce post-harvest losses substantially and increase market access for fish farmers' catches.