Bacterial Kidney Disease - Detection and Control in Great Britain
Published by CEFAS Finfish News - Issue 4, Summer/Autumn 2007. Bacterial Kidney Disease (BKD) is a chronic systemic bacterial condition of fish of the family Salmonidae caused by Renibacterium salmoninarum.
Introduction
It affects fish in freshwater and seawater environments and can have a serious economic impact, particularly in seawater Atlantic salmon farms.

BKD was first recorded in wild Atlantic salmon from the Rivers Dee and Spey in Scotland in 1930. It was made a notifiable disease in 1978 following serious outbreaks of the disease in farmed rainbow trout. Disease control measures included the prohibition of movements of live fish from affected sites, and contact testing of suppliers and recipients.

The EC single market measure Council Directive 91/67/EEC introduced conditions for placing live fish on the market. BKD was categorised as a List III disease in Annex A of 91/67/EEC. There are no Community-wide controls for List III diseases. However, Member States may, under Articles 12 and 13 of 91/67, apply to the Commission of the EU for approval of national programmes to control any of the List III diseases (including application of those requirements to trade with other countries). The UK originally applied to the Commission for approval for its control programme for BKD in the early 1990s but the matter was not considered further by the Commission until 2003 when the UK and other member states were invited to review and resubmit their applications for additional guarantees.

In May 2004, Commission Decision 2004/453/ EC granted the Republic of Ireland, Northern Ireland, the Isle of Man, and Jersey additional guarantees on imports in respect of BKD on the basis of freedom from the disease. There is no requirement for Member States declared free of a List III disease to undertake sampling to demonstrate continued disease freedom. Finland, Sweden and Great Britain were granted additional guarantees in respect of BKD on the basis of approved national control programmes. However, the additional guarantees are subject to the following conditions. There must be an inspection and sampling programme aimed at the detection of BKD and the control programme must be with a view to eradication of the disease.

Sampling for BKD
In Scotland, the sampling programme to maintain additional guarantees for BKD commenced in May 2004. Samples are taken in conjunction with samples for the List II diseases of fish, viral haemorrhagic septicaemia and infectious haematopoietic necrosis. All registered fish farm sites containing species susceptible to BKD are inspected on an annual basis. Samples are taken for screening for BKD from 30 fish every second year. For operational reasons, the sampling programme in England and Wales started in May 2005, with all farms tested within a one-year period.

Sampling for routine surveillance involves the collection of kidney tissue (batched in pools of 5 fish) for assay by Enzyme Linked Immunosorbent Assay (ELISA). At the same time, kidney material from individual fish is inoculated onto agar plates or stored in RNAlater medium. If the ELISA test proves negative, the inoculated or stored kidney material is then discarded and the test is declared negative.

In the event of a positive ELISA test, a polymerase chain reaction (PCR) test is conducted on the corresponding kidney tissue sample. In addition, on suspicion of BKD, a further 150 fish may be sampled and screened by ELISA. PCR and agar culture tests will be conducted where an ELISA test result is positive from a 150-fish test. If a 150-fish test is deemed necessary, this may be scheduled to take place at a time when the water temperature is optimum for detection of R. salmoninarum usually in the spring or autumn.

If, during surveillance, clinical signs or post mortem evidence of disease are observed, then additional samples may be taken in order to carry out a differential diagnosis. Tissue samples may be collected for histopathology. In some cases, if there is suspicion of BKD, an Indirect Fluorescent Antibody Technique (IFAT) test may be carried out on the fixed tissue.

Official suspicion of BKD may result from a single positive test result, such as a positive ELISA test or a histopathology report indicating the presence of characteristic lesions. In the absence of culture of R. salmoninarum on agar plates, positive results from more than one laboratory test are required to confirm the presence of BKD. Details of the tests that may lead to official suspicion or confirmation of BKD are given in Table 1.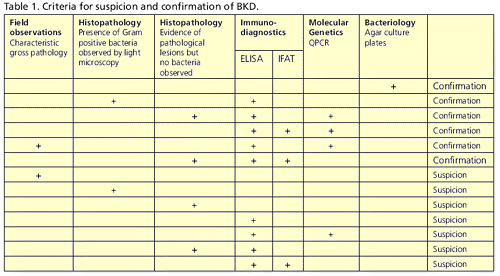 Laboratory test methods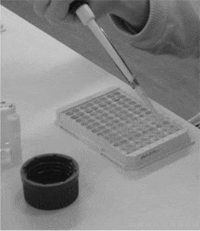 Figure 1. Screening for BKD by ELISA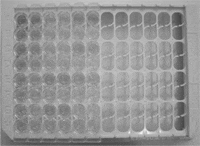 Figure 2. ELISA positive results represented by a colour change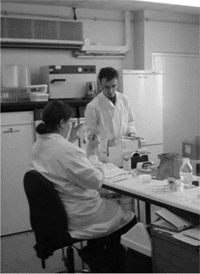 Figure 3. Scientists preparing agar plates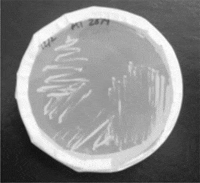 Figure 4. Bacteriological culture of R.salmoninarium
A number of laboratory test methods are used to isolate and/or identify R. salmoninarium. These include: culture of the organism on agar plates, ELISA, PCR, histopathology and IFAT.

Culture on agar plates
Culture of the bacterium on an agar plate is a definitive method for confirming the presence of the pathogen R. salmoninarum. A swab is taken from the kidney and inoculated onto culture plates of Muller Hinton Cysteine Agar (MHCA), or Selective Kidney Disease Medium (SKDM). Plates are incubated at 15°C for up to 12 weeks and are regularly checked for signs of bacterial growth. R. salmoninarum is slow growing and can be difficult to culture on agar. When bacterial growth on plates is observed, a range of confirmatory tests are conducted.
Enzyme Linked ImmunoSorbent Assay
The ELISA test is a rapid diagnostic test and is recommended by the World Animal Health Organisation (OIE) as a screening method for BKD. This method is used routinely throughout Great Britain to screen populations of fish for evidence of the presence of R. salmoninarum. A small piece of fish kidney tissue is collected in a sterile dry tube. The test is designed to detect the presence of an antigen of R. salmoninarum, known as the P57 protein. An antibody which binds to the P57 protein and which is labelled with an enzyme is added to the sample. A colourless substrate is added and is used to detect the presence of the antigen-antibody complex. If this complex is present a colour change will be observed by the action of the antibody linked with the enzyme. The degree of colour change will be an indication to the amount of antigen-antibody complex present within the sample.
Polymerase Chain Reaction
The PCR is a molecular test that can be used to corroborate a positive screening test for R. salmoninarum. PCR is used in conjunction with other laboratory tests to obtain evidence for the presence of the bacterium, and can be used to support cases of suspicion or confirmation. In the event of a positive ELISA test result, samples of fish kidney tissue are examined using the PCR technique. The basic principles behind this test involve detecting the presence and measuring the quantity of a small segment of bacterial DNA that has a genetic sequence identical to that of R. salmoninarum. Positive results may be indicative of the presence of the pathogen within the sample.
Histopathology
Tissue samples of internal organs, gills, skin and musculature are taken from fish showing clinical signs of disease and these are preserved in buffered formol saline. Processing involves embedding the tissue in wax and cutting thin sections, which are then mounted on a glass slide and stained. The sections are examined using a microscope for the presence of pathological change and bacteria characteristic of BKD.
Indirect Fluorescent Antibody Technique
The IFAT test is also an OIE approved screening method for BKD. The method detects bacteria in a tissue sample. A kidney imprint is made onto a glass slide to leave a single layer of tissue cells. The sample is 'washed' with a number of solutions containing different antibodies. IFAT works on the principal that test antibodies against R. salmoninarum bind to the surface of the bacteria, if present, in the tissue section. Once bound a second antibody targeted against the first antibody (usually rabbit or sheep anti mouse antibodies) labelled with a fluorescent dye is allowed to bind to those antibodies that have bound to the bacteria. A fluorescent antibody complex is then formed. The process can be represented diagrammatically as in figure 5.

Positive kidney tissue imprints exhibit fluorescence associated with the bacteria upon examination using a fluorescence microscope (figure 6).


Figure 5: Representation of Indirect Fluorescent Antibody Technique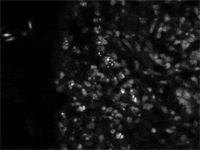 Figure 6. Brighter structures are individual R. salmoninarum; mid-tones are the nuclei of the host's cells
Diagnosis
The clinical signs and gross pathology associated with BKD can vary considerably, but may include exophthalmia (protruding eyes), darkening of the skin, haemorrhage to the base of the fins, pale gills, an accumulation of fluid in the body cavity and an enlarged kidney. Cream or grey coloured nodules may be present on the kidney and sometimes on other organs including the liver, spleen and heart. The spleen may also appear enlarged and the kidney may be covered by an opaque membrane.

Whilst a presumptive diagnosis can be made from observation of the clinical signs of BKD, these alone are insufficient to permit a definitive diagnosis. Some infected fish may not exhibit any clinical signs yet may still be carriers of R. salmoninarum and pose a risk of transmitting the pathogen to other fish populations.

The laboratory tests described above provide evidence for the presence of R. salmoninarum and may provide sufficient grounds to suspect or confirm infection on a farm. Table 1 details the combinations of laboratory test results and other evidence that the Fish Health Inspectorate bases decisions on with regard to suspicion or confirmation of BKD.
Accreditation and quality control
The methods of inspection and laboratory testing conducted by FRS and Cefas are accredited by the United Kingdom Accreditation Service (UKAS) to ISO17020 and ISO17025 standards. All processes relating to on-site inspection, sampling and laboratory testing are conducted according to Standard Operating Procedures, which ensure consistency and traceability. As part of the quality control system, ELISA, PCR and IFAT tests include positive and negative controls which provide a cross reference to the validity of results. These procedures and audit processes ensure the risk of cross contamination during sample processing in the laboratory is negligible.
Statutory Controls
Where there is sufficient evidence to suspect or confirm the presence of R. salmoninarum, official controls will be applied in accordance with the Diseases of Fish Acts 1937 and 1983 to prevent the spread of disease.

If BKD is suspected, further sampling may be necessary to confirm or rule out suspicion. The environmental conditions on site must be taken into consideration and may influence the timing of further sampling as the disease is influenced by water temperature.

Where there is sufficient evidence to give rise to suspicion of the presence of BKD on a fish farm site, a Thirty Day Notice (TDN) is served on the fish farm. This statutory notice restricts the movement of live fish to and from the site. As the confirmatory test for BKD may require up to a 12-week incubation period, it may be necessary to serve a second TDN on the site. Should it not be possible to confirm BKD within the scope of the second TDN, a Designated Area Order (DAO) will be made. This will remain in force until BKD can be confirmed or ruled out, or the fish on site are withdrawn and the farm is satisfactorily cleaned, disinfected and fallowed.

Fish farm sites with epidemiological links to BKD-positive sites, will also be subject to movement restrictions whilst sampling takes place and diagnostic tests are conducted to rule out or confirm the presence of R. salmoninarum. Defra, Welsh Assembly Government and the Scottish Government officials may also, if epidemiological conditions allow, consider measures to help mitigate the effects of movement restrictions on BKD positive sites providing these are consistent with provisions of the additional guarantees.

Statutory controls restrict the movement of live fish to and from the affected farm. Harvesting of clinically unaffected fish for human consumption is permissible but dead fish displaying clinical signs of disease should be disposed of by an approved method in accordance with the appropriate Animal By-Products Regulations. Under certain circumstances permission may be granted to move live fish from an affected farm to another farm subject to BKD controls if such a movement comprises part of a managed clearance and eradication programme and it poses no risk of further transmission of disease. Statutory controls are revoked when BKD is deemed to have been eradicated from the infected site. Eradication can be achieved by depopulating, cleaning and disinfecting an infected farm. Alternatively, eradication can also be achieved through a programme of progressive cleaning and disinfection along with careful management of infected stocks. This involves restocking with fish from a disease-free source and increasing bio-security measures including, where possible, segregating areas of the farm, using area specific equipment and adopting increased bio-security measures when moving between areas of the farm with differing disease status. In such cases, statutory controls will be revoked following a programme of sampling and testing which demonstrates disease-freedom.
BKD Surveillance in England and Wales: 2005-2006
Prior to the start of the targeted surveillance programme for BKD there were two BKD designated fish farms in England and Wales. During the course of the surveillance programme 202 fish farms in England and Wales were tested for BKD. Of these, 7 farms proved to be positive (3 through the monitoring programme and 4 via contact testing).

Of the 9 farms (all trout) subject to BKD controls:
Five farms elected to cull and disinfect resulting in the removal of statutory control
Four farms have implemented plans to manage the fish stocks to eliminate the disease prior to a programme of retesting.
BKD monitoring in England and Wales will recommence in autumn 2007 with a view to testing all fish farms holding susceptible species by the end of spring 2008.
BKD Surveillance in Scotland: 2004-2006
Prior to the start of the targeted surveillance programme for BKD there were 16 BKD designated farms (6 salmon and 10 trout) in Scotland.

Since surveillance testing began in May 2004 and up until the end of 2006 427 sites have been tested. Of these, 2 proved positive leading to a further 2 positive farms from contact testing. In addition, 3 farms tested positive in the time period as a result of diagnostic examination of clinically diseased fish.

11 farms (all trout) are currently subject to BKD controls in Scotland.
Two farms are currently fallow, cleaned and disinfected and awaiting inspection
One farm is 2½ years into its testing programme
Two farms have completed a programme of progressive cleaning and disinfection and stocking with negative fish. They are about to enter into a testing programme with the objective of having their orders revoked.
Six farms are progressively fallowing, cleaning and disinfecting their facilities, stocking with disease free fish and where possible separating new inputs form fish already on site. They propose to enter into a testing programme in the future.
BKD surveillance in Scotland continues as a rolling programme with each farm holding susceptible species being tested every second year in conjunction with sampling for VHS and IHN.
Summary
BKD continues to be an economically significant disease with respect to affected salmonid farms within Great Britain. Through compliance with domestic and European fish health legislation, the activity of the Competent Authority in Scotland, England and Wales has helped to reduce the introduction and further spread of the pathogen responsible for causing BKD.

Additional information
BKD is a notifiable disease. If you suspect the presence of BKD you must contact the relevant Competent Authority – FRS in Scotland and Cefas in England and Wales. More information on BKD and other notifiable can be found at www.frs-scotland.gov.uk or www.efishbusiness.com or contact:

Fisheries Research Services
PO Box 101
375 Victoria Road
Aberdeen
AB11 9DB
Tel. 01224 876 544

Centre for Environment Fisheries
and Aquaculture Science
Weymouth Laboratory
Barrack Road
The Nothe
Weymouth
Dorset
DT4 8UB
Tel. 01305 206 673
Glossary of Terms
Agar Plates – a nutrient rich medium that is used to culture bacteria and fungi isolated from an individual organ of a fish using a swab.

Antibody – proteins found within the blood and other tissue fluids that form part of the immune system. Antibodies identify and neutralise specific bacteria and viruses

Antigen – a molecule that stimulates an immune response

Designated Area Order (DAO) – Movement restrictions designating a specified area and preventing the movement of live fish, eggs or gametes of fish into, out of and within that area, and the movement of feedstuff out off the area, without the permission of Ministers. There are also provisions to remove dead and dying fish from the designated area.

Epidemiological links – a connection or activity which may be associated with the spread of a particular disease or pathogen. Examples could include – fish movements, transporter movements and movement of infected equipment.

List III disease – Are diseases specified within Council Directive 91/67/EEC which are not subject to EU wide control. However, Member States may, under Articles 12 and 13 of 91/67, apply to the Commission for approval of national programmes to control any of the List III diseases (including application of those requirements to trade with other countries). Control is based on additional guarantees granted through Commission Decision 2004/453/EC in respect of areas of the EU that can demonstrate freedom from or have programmes in place to eradicate disease.

Examples of List III diseases include Bacterial Kidney Disease (BKD), Gyrodactylus salaris, and Spring Viraemia of Carp (SVC)

List II disease – Are diseases specified within Council Directive 91/67/EEC which are present within the European Union. Approved country, zone or farm status may be granted if there is sufficient evidence of freedom from disease at the appropriate level, or if no populations of susceptible species exist. Control and eradication policies are mandatory through Council Directive 93/53/EEC.

Examples of List II diseases include Viral Haemorrhagic Septicaemia (VHS) and Infectious Haematopoietic Necrosis (IHN)

RNAlater – an aqueous saline tissue storage agent which penetrates tissues to quickly stabilise and protect cellular RNA

Thirty Day Notice (TDN) – Movement restriction preventing the movement of live fish, eggs or gametes of fish on and off a fish farm site and the movement of feedstuffs for fish off a fish farm site without the permission of Ministers.

January 2008