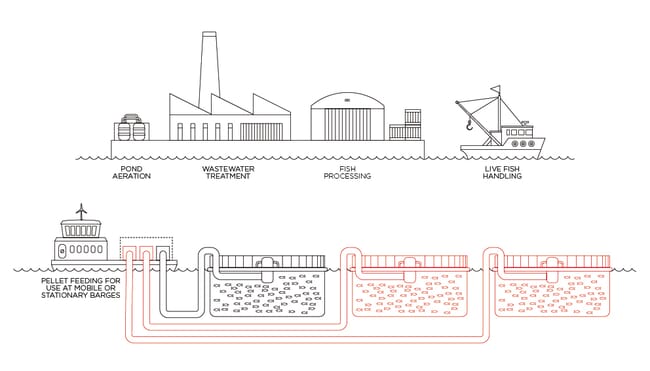 The company uses state-of-the-art design and manufacturing facilities to deliver an ever-evolving product range of blowers, vacuum pumps and compressors to the aquaculture industry. With a worldwide presence, Gardner Denver offer local service capability, ensuring their advanced technology is backed by local technical support. For more information on their industry-leading industrial air solutions visit https://www.gardnerdenver.com/...

Blower and compressed air technology is used in many different applications in the aquaculture industry, from aeration of fish pools to conveying of pellets in fish feeding system. Gardner Denver have developed two innovative blowers for the aquaculture industry, specifically designed for offshore feeding systems or on-shore feeding systems in existing or new installations. Gardner Denver also design and manufacture a number of compressors, which will provide high quality compressed air for a range of services. This includes conditioning, which ensures the cleanliness of compressed air to help extend the service life of pneumatic components, allow aeration during farm treatments and assist in controlling operational processes.
Tip 3 of 9: Minimise pressure drops
The energy used by your blowers and compressors is driven by many different factors, one of the most important being their operating pressure. Ensuring that the minimal pressure drops are present within the piping network is key factor in the energy reduction of your equipment. Shortening piping distance and having smooth piping bends are two of the many examples linked to the installation which will guarantee these savings. Not only the installation but also the blower's components can impact the pressure drops. For instance a clogged filter, if not replaced, will increase the machine's pressure drop and will generate an extra power consumption to compensate this additional losses. As an example, a blower being used at the same flow but with an extra 100mb working pressure will consume between 11 percent to 13 percent more power.
Download the poster and full nine tips here.
Umberto Onetti, Key Account Manager at Gardner Denver, explains: "The world fish trade is growing at an unprecedented rate, bolstered by the expansion of the aquaculture market, which has been the fastest growing food production sector over the past 20 years. Our guide will help fish farmers to overcome common challenges to unlock productivity such as limited installation space, high noise levels and unreliable performance. Our industrial air solutions have been developed to offer operators in the aquaculture sector efficient and effective solutions."

Non-English language versions are also available for download here: Norwegian, Spanish, French