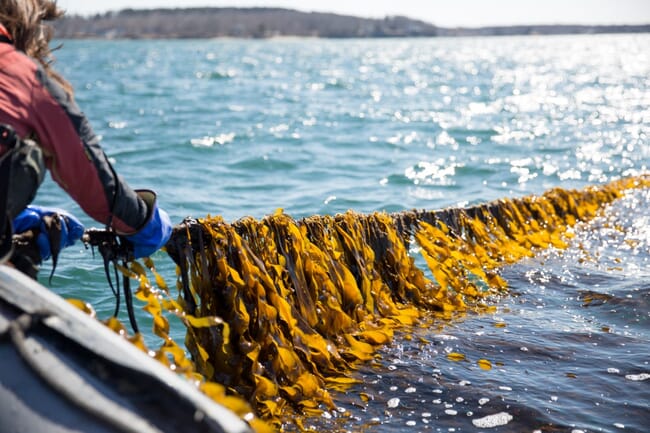 The new market assessment report released by the Ecology Action Centre (EAC) – a Nova Scotian environmental charity – concludes that Nova Scotia is in a unique position to realise values of CAD$38 million of farmed and processed kelp, a further $20 million in related local economic activity and up to $149 million in consumer and personal care products.
This analysis is based on a modest ambition to capture 35 percent and five percent of the Canadian and US markets respectively, and with a focus on consumer food and health and beauty products in those markets that already include kelp or where Nova Scotia kelp could easily replace an ingredient.
As Arlin Wasserman, managing director of Changing Tastes – a management and strategy consultancy working in the sustainable food sector that undertook the analysis – commented in a press release: "Nova Scotia is well positioned to gain a significant share of the North American cultivated kelp market. It has the advantage of coastal communities that are well suited for this regenerative ocean farming along with established industry to support processing."
The EAC commissioned the analysis as part of their Kelp Kurious project, which aims to support a kelp sea farming and products sector led by independent growers and small to medium businesses as an opportunity in the green, regenerative economy of the future.
Key findings include:
Nova Scotia is well positioned to gain a significant share of the $200 million regional market for products containing kelp and kelp-based ingredients, making significant contributions to the local economy while delivering environmental benefits.
The North American market demand for kelp will be over 53 million kg per year in just a couple of years.
Nova Scotia can quickly capture a share of that market of about 5.4 million kg, which can be produced in just over 1,000 hectares of farmed ocean. Farming and processing will generate more than $38 million in new economic opportunity in addition to boosting eco-tourism and diversifying income for the seafood industry.
The market for seaweed-based products continues to grow. Nova Scotia can help accelerate that growth and steer it to favour Nova Scotian farmers, businesses and products.
In five to seven years, Nova Scotia can grow the overall market and its share of North American kelp to over 16.5 million kg and triple the acreage farmed and contribution to the provincial economy.
The EAC hopes that with this information, policymakers, investors and other stakeholders can make informed decisions that support the growth of this emerging industry in a manner that benefits local communities.
"This report provides valuable insights and a strategic roadmap for building this sector in a way that is sustainable and benefits as many communities as possible," added Shannon Arnold, marine program associate director with the EAC. "At the moment, it can take several years for small-scale entrepreneurs to get permits, and so we're urging the government to move quickly on its promise to 'right-size' the regulations for regenerative sea farming like seaweed and shellfish. Nova Scotia needs fit-for-purpose regulations that protect marine ecosystems and get folks on the water faster, or we risk being left behind by other jurisdictions that are keen on kelp."